Argentina's Flybondi Bets on Local Flights to Survive Virus
(Bloomberg) -- Argentina's discount airline Flybondi is planning to redouble its bet on domestic service once the toughest travel ban in the Americas is lifted.
The company will focus on local flights as long as demand for international travel remains tenuous because of the coronavirus pandemic, said Chief Commercial Officer Mauricio Sana in an interview. Flights to Brazil, the hardest-hit country in Latin America, may not restart until May 2021.
"The bet for regional growth in 2020 is canceled," Sana said. "As foreign travel reduces, much of tourism will turn to whatever domestic options come up. Local markets will recover faster."
Argentina's government has banned all air travel until Sept. 1, one of the toughest restrictions in the world. Even before the pandemic, airlines operating in the country had been hard-hit by an economic slowdown, double-digit inflation and a 30% tax on foreign travel. Carriers in Argentina are expected to collectively lose as much as $80 million just on canceled local flights from mid-March to September, the executive said.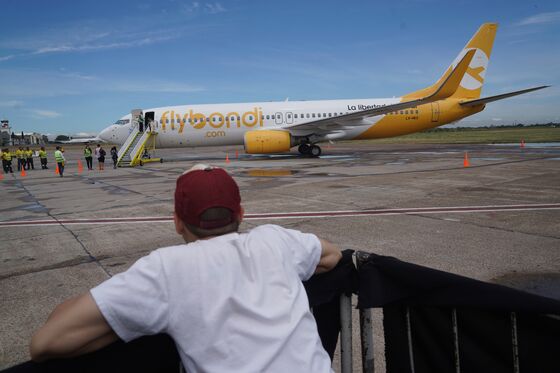 He called the Sept. 1 date "an exaggeration" and said he hopes the government will reconsider and allow domestic travel to restart before then.
Read more: Airline Default Risk Stalks Latin America at Twice World Average
The privately held carrier, which started operating in 2018, has slashed salaries for top executives by as much as 50% to lower costs and maintain jobs. The airline reduced compensation 15% for lower-paid employees. The cuts are in effect from April to June. Flybondi also scrapped a plan to add a Boeing 737-800 to its fleet in September.
Airlines around the world are fighting to survive as the coronavirus pandemic thrusts the industry into the worst crisis in its history. Carriers in Latin America are twice as likely as their peers around the world to default in the coming year, according to a study. Sana estimated domestic flights will drop 50% this year. Sixteen million passengers traveled by air in Argentina last year, according to a report from the National Civil Aviation Administration.
Before the flying freeze, Flybondi operated 18 domestic routes and six regional ones, connecting the country with cities in Brazil, Paraguay and Uruguay. When the ban is lifted, Flybondi is planning to reduce frequencies on its local routes to cope with lower demand, rather than cut destinations, Sana said.
"We are betting that there won't be regulation that reduces airplane capacity due to the pandemic," Sana added. "We want to keep our track record of efficiency."