Argentina Orders 'Exceptional' Lockdown in Bid to Stem Virus
(Bloomberg) -- Argentina imposed a nationwide lockdown to stem the coronavirus pandemic, marking one of the strictest measures taken by any Latin American nation.
Starting Friday, citizens are only permitted to leave their homes for essential services such as supermarkets and pharmacies, President Alberto Fernandez said. The lockdown, which will be enforced by security forces, lasts until March 31.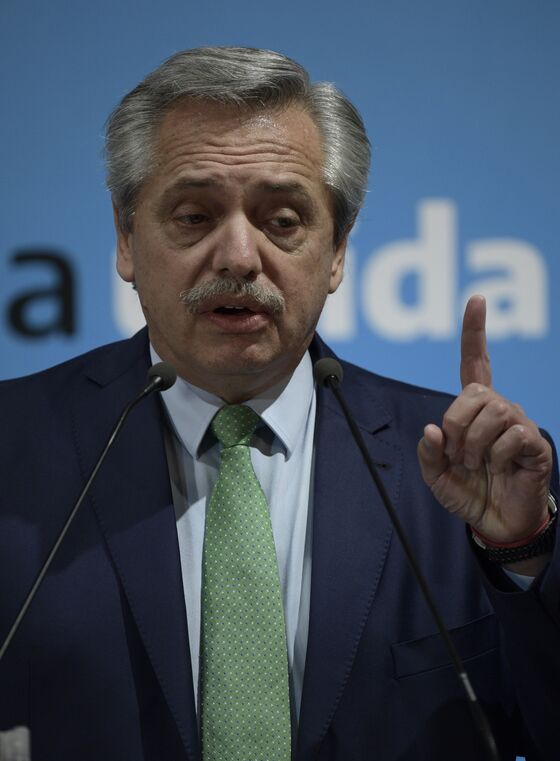 "We'll be absolutely inflexible in the enforcement," Fernandez said. "This is an exceptional measure in an exceptional time -- and yet still under the framework of democracy."
Fernandez has implemented ever-tougher restrictions in recent days to contain the outbreak. The government had already shut borders, canceled almost all flights, closed schools and mandated a 14-day quarantine for anyone experiencing coronavirus symptoms or traveling from virus hotspots.
As of Thursday, Argentina had three virus-related deaths and 128 confirmed cases. So far, 70% of cases are in the city and the province of Buenos Aires.
Fernandez acknowledged that the economy will slow down because of the virus, and added that he will announce additional measures to aid workers in the informal sector in upcoming days.
Several exemptions exist under the lockdown. Activities related to the production and trade of Argentine commodities are still permitted. Police, military, media, hospital workers, supermarket employees and other groups are also allowed to continue to work.
Still, much of Buenos Aires came to a halt Friday morning. Bank branches closed except for ATMS. Normally bustling avenues were largely devoid of traffic. Few pedestrians walked residential neighborhoods. Normally bustling cafes sat dormant.