Are Gun Stocks Forecasting an Election Outcome? It's Complicated
(Bloomberg) -- More than halfway through Tuesday, everyone wants to read market tea leaves for a view on the midterms. Gun stocks are one such leaf -- but formulating a thesis from them is an exercise fraught with peril.
American Outdoor Brands Corp. and Sturm Ruger & Co., two widely followed firearm makers often used to gauge the political climate, are among the top performers in Russell 2000's leisure indexes, up as much as 6.7 percent and 3.4 percent, respectively.
One interpretation: the market thinks the Democrats are poised for a victory. Gun stocks typically rally when Second Amendment debates arise, as would-be gun owners may hurry to purchase firearms amid concern availability may suffer.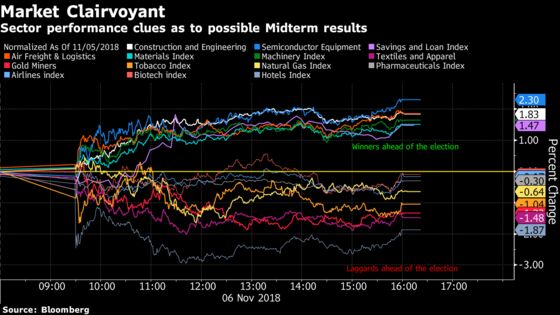 Widen the lens, however, and the picture muddles. Gun stocks are just one of a dozen supposed political proxies that are moving today -- in every direction.
Here's a rough breakdown.
A basket of stocks identified by Morgan Stanley as most likely to benefit under Trump's presidency are on track to advance 9 percent in six consecutive days of gains.
Engineering and construction, semiconductors, savings and loans firms, freight, materials, machinery and chemicals are all among the leading sectors.
Taking a high-altitude view of these groups may lead one to conclude the GOP had the Midterm races sewn up.
Republicans are seen as much more favorable with regards to regulation on banks, miners and chemicals companies, while the other sectors will likely benefit from continued economic growth.
The underperforming sectors Tuesday include the hotels sector -- no thanks to Marriott's earnings Monday -- gold miners, tobacco, natural gas, pharmaceuticals, energy firms and airlines.
If you were to take the stereotypical view of the above mentioned sectors, you may find its harder to forecast a political victor.
Democrats have been openly critical of the energy sector's impact on the environment, while pharmaceuticals companies, tobacco, mining and airlines are heavily regulated industries unlikely to benefit from increased Democratic oversight. 10-year bonds are also weaker likely weighing on gold prices and strong dividend payers in the above mentioned groups -- a sign that may portend increased deficits that would result from nearly all outcomes forecasted in the Midterm scenarios.
Yet in one sign the market is far from ready to call a victor, trading volume on the S&P 500 Index was more than 20 percent below its 20-day average just after 2 p.m. in New York. Trading on the Nasdaq Composite Index was about 8 percent below its average.