Arctic Blast Drives Strongest Propane Demand in 17 Years
(Bloomberg) -- Wintry weather spreading across much of the U.S. helped drive the highest demand for propane in weekly government data going back to 2004.
While cold fronts typically boost consumption for heating fuels, this year is different. Last month, the combination of a similar arctic blast in Asia and Saudi Arabia's oil-output cuts created a squeeze for the fuel and led to a surge in U.S. exports.
The stronger demand could boost prices for home heating, make it more expensive to produce plastic and curb exports. Propane production has risen in recent years as the fracking boom sent oil and natural gas production skyrocketing and turned the U.S. into a net energy exporter.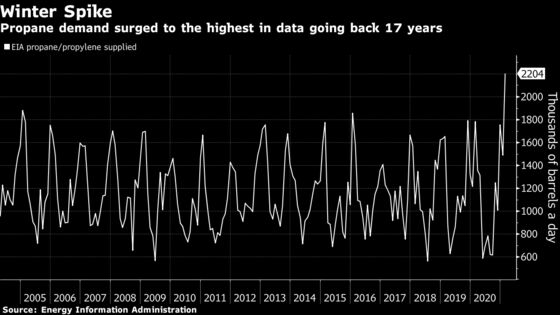 An ice storm sweeping across Arkansas and Missouri will bring snow to Washington by Thursday, and temperatures are forecast to be 30 to 40 degrees Fahrenheit (17 to 22 Celsius) below normal through the central U.S. as frigid air spills down from the Arctic.
Last week, demand of propane and propylene surged to a record 2.2 million barrels a day, according to an Energy Information Administration report on Wednesday. That pushed propane supplies to the lowest in nearly two years.
Demand for propane has also increased due to rising petrochemical production. Over the last decade, the U.S. and Asia have built a slew of propane dehydrogenation plants and ethylene plants that use propane, among other NGLs, as a feedstock to make plastic.
Tighter supplies due to production cuts by Middle Eastern suppliers amid a consumption surge fueled by an icy winter prompted the region's biggest supplier, Saudi Arabia, to hike prices to the highest in more than two years.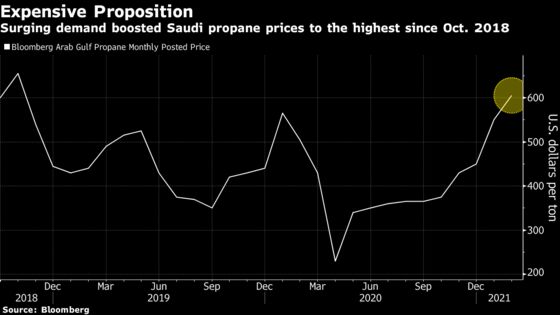 In the winter months, residential use of propane usually spikes, but now the supply crunch is even sharper due to industrial use of the fuel, which can be as high as 63% of propane consumption depending on the time of year, according to EIA data.
This year, the propane market may also have an additional source of demand: outdoor dining. In order to keep businesses alive during the Covid-19 pandemic and lockdown restrictions, many restaurants in northern U.S. cities have increased outdoor dining capacity with the use of propane heaters.
Spot propane prices in Mont Belvieu, Texas, traded at 87 cents per gallon Wednesday morning, according to data from DTN Energy. Last month, prices surged to 96.75 cents, the highest since October 2018.