Arconic Plunges After Walking Away From Apollo's Buyout Offer
(Bloomberg) -- Arconic Inc. tumbled the most in eight months as the board rejected a sale of the company, scuttling a highly anticipated deal that would have ranked among the biggest leveraged buyouts since the global financial crisis.
Apollo Global Management had been in talks to buy the maker of aerospace and auto parts for $22.20 a share, valuing Arconic at about $10.7 billion, according to people familiar with the matter. The private-equity firm had secured financing for the offer, which included coverage of potential liabilities related to London's deadly 2017 Grenfell Tower fire, the people said.
The collapse of the negotiations deepens uncertainty surrounding Arconic, which during the last two years has fought a proxy battle with activist investor Elliott Management Corp., replaced its CEO and drawn unwanted attention for its connection to the London tragedy. The focus now will shift to operational improvements and the previously announced sale of the building-systems unit, Arconic said in a statement Tuesday.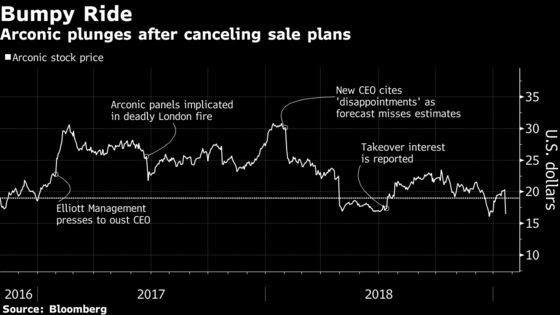 "We did not receive a proposal for a full-company transaction that we believe would be in the best interests of Arconic's shareholders and other stakeholders," Chairman John Plant said in the statement. Arconic declined to comment further. Apollo declined to comment.
Arconic plummeted 16 percent to $17.16 at 12:37 p.m. in New York after falling as much as 21 percent, the biggest intraday drop since April 30. The shares tumbled 38 percent last year, while a Standard & Poor's index of industrial stocks dropped 15 percent.
The abandonment of the buyout extends Arconic's brief but tumultuous life as an independent company since splitting with aluminum producer Alcoa a little over two years ago. Chief Executive Officer Chip Blankenship, who took the reins early last year, has been conducting a strategic and portfolio review to address what he has called disappointing execution.
The fallout from the London fire, which killed more than 70 people, had been a sticking point in the negotiations with Apollo, Bloomberg News previously reported. The firm, which had emerged as the front-runner after topping an offer from rival private-equity investors, was working to protect itself from ongoing liabilities.
For more on how Arconic put options are reaping a 1,992% gain, click here
While reports of private-equity interest had buoyed Arconic, the shares still suffered last year as the company weathered poor performance and rising aluminum prices.
Blankenship, a former General Electric Co. executive, put Arconic's Building and Construction Systems unit up for sale in July as part of the portfolio review. He also agreed to move the company's headquarters out of New York to help cut costs.
While the sale's cancellation may "result in a longer time horizon to recognize increased shareholder value," Arconic still has plenty of options, according to a client note from Jefferies analysts. The building-systems sale, cost-reduction efforts and improving end markets are likely to buoy the company, they said.