Arab World Juggles Old and New Enemies in Response to Trump Plan
(Bloomberg) -- Israel loves it, the Palestinians hate it and the rest of the Arab world is, well, not so sure.
The reaction in Jerusalem and Ramallah to President Donald Trump's much-delayed Mideast peace plan was inevitable for he delivered a blueprint heavily favorable to Israel that, if implemented, shatters for good Palestinian dreams of a coherent homeland. But the muted response elsewhere reflects new dynamics in the region's corridors of power that have largely eclipsed the century-old tussle over land, and pushed some Gulf nations closer to Israel.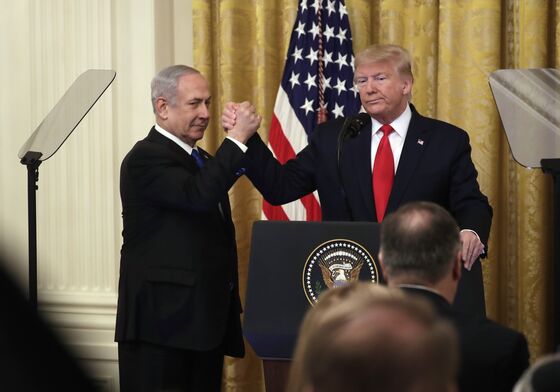 "The key driver of the improvement in Israeli-Gulf relations behind closed doors is a common fear of a hegemonic Islamic republic in Tehran," said Ayham Kamel, head of Middle East and North Africa research at the Eurasia Group. "The Palestinian issue is no longer the most important driver of Arab politics."
Reflecting the general sentiment in the Arab world, an emergency Arab League meeting in Cairo on Saturday is expected to reject the Trump plan, which was drawn up without Palestinian involvement and denounced by Palestinian Authority President Mahmoud Abbas.
Yet while no Arab government has given outright approval of the plan, regional powers Egypt and Saudi Arabia refrained from criticizing a set of demands which ask far more of Palestinian than Israeli leaders, and instead said both sides should re-enter U.S.-sponsored talks. The United Arab Emirates, which last year called for better relations between Arab states and Israel, said the proposal was a "serious initiative" and a starting point for negotiations.
Many of these countries, of course, have important economic and military ties to the U.S. and wouldn't want to damage relations with Trump by rejecting or criticizing a plan he's placed such importance in.
Critics of the road map say it's a non-starter aimed chiefly at domestic political audiences in the U.S. and Israel, where Trump and Israeli Prime Minister Benjamin Netanyahu are both locked in legal wrangling ahead of elections.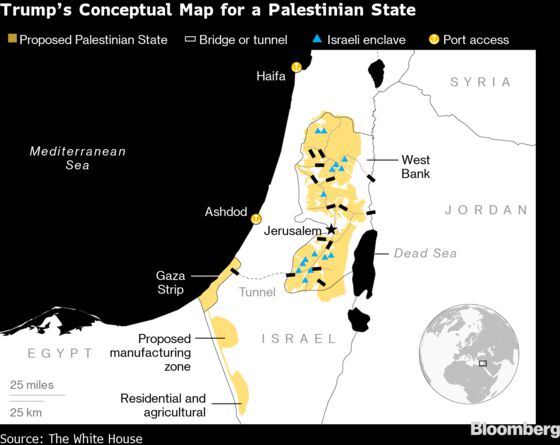 They say it gives the green light for Israel to annex West Bank settlements -- something which would complicate support from Arab states, in particular Jordan, whose population is largely of Palestinian descent. Amman has warned against the consequences of annexation and what it described as the encroachment on holy sites in Jerusalem.
Jordanian officials are waiting to see the outcome of Israeli elections early next month, which they think would delay any immediate implementation of the plan, said Jordanian political commentator Osama al-Sharif.
If Trump is to have any chance of getting his proposals off the ground, allaying the concerns that Arab leaders aren't openly venting for now and rallying their support will be essential. He'll need the ruling families to endorse the U.S. approach and push the Palestinians toward engagement.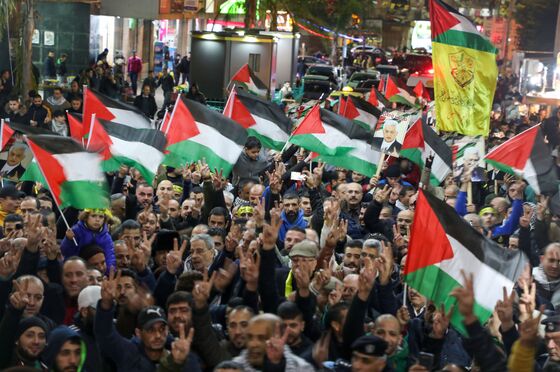 The U.S. may be helped by a cornered Iran, which has eased shackles on its nuclear program in response to Trump's offensive on its economy and backs leading foes of some Gulf states. And by the looming presence of Turkey -- increasingly assertive in neighborhood conflicts and energy feuds, and a prominent backer of the brand of Islamist politics widely abhorred in the Gulf.
Cold strategic thinking aside, there's also been a generational shift, according to Hussein Ibish, a senior resident scholar at the Arab Gulf States Institute in Washington and a contributor to Bloomberg Opinion. He compared the attitudes toward Israel held by Saudi Arabia's octogenarian king and his 34-year-old son Crown Prince Mohammed bin Salman.
Prince Mohammed, "emblematic of his generation, does not seem to view Israel or Jewish nationalism as an exceptional or even objectionable phenomenon," Ibish said.
The prince is close to Jared Kushner, Trump's son-in-law and the peace plan's architect, and their relationship has probably been key to convincing the U.S. administration that it can creatively sell its plan, said Kamel at Eurasia Group.
Still, all this is unlikely to be enough while the Palestinians remain marginalized and out in the cold.
"Even the most pragmatist leaders in the region would struggle to embrace normalization with Israel while the Palestinians reject Trump's 'deal of the century'," said Kamel.
More broadly, Gulf Arab states know their security concerns cannot be resolved as long as the conflict continues to destabilize the regional landscape without a viable solution.
"The occupation is a gift that keeps on giving to all their enemies -- including Iran and Hezbollah, al-Qaeda and Islamic State, and anyone who wants to outbid them on opposition to Israel and championing the Palestinian cause," Ibish said.
Iran condemned the plan as "disgraceful" and the "betrayal of the century," in a statement by the Foreign Ministry. "The so-called 'Vision for Peace' is simply the dream project of a bankruptcy-ridden real estate developer," Iranian Foreign Minister Mohammad Javad Zarif wrote on Twitter.
Aside from its short-term electoral implications, the impact of the Trump proposal -- and its embrace of most Israeli positions in the long search for a solution to occupation -- will take time to emerge. For the 84-year-old Abbas, Palestinian political factions and the Palestinian people, the pressure is more immediate and could even lead to another uprising, said analyst Jehad Harb from the Palestinian Center for Policy and Survey Research.
"Both Fatah and Hamas realize now that the Palestinian situation is in a serious dilemma and the only way out is to achieve unity," he said. "Without that Israel will continue to implement" Trump's vision.