Applied Materials View Shows Path to Being a 'Mighty' $80 Stock
(Bloomberg) -- Applied Materials shares soared to the highest intraday since early 2018 after the company's sales forecast topped estimates, prompting a wave of price target increases by analysts.
"Applied Materials' outlook gives the bull narrative more road," Cowen analyst Krish Sankar wrote, adding that "the path from a 'nifty fifty' to a mighty eighty stock got less murky."
Shares of the maker of machinery used in the production of semiconductors had climbed more than 70% this year to nearly $57 before the results were released after markets closed on Thursday. The company's estimate-beating fourth quarter results followed strong results from peers.
"This beat is much better than expected," Evercore ISI analyst C.J. Muse wrote, pointing to some sell-side previews that called for only an in line forecast.
Shares climbed as much as 9.6% to $62.40 on Friday, the highest intraday since March 2018. Here's what analysts are saying: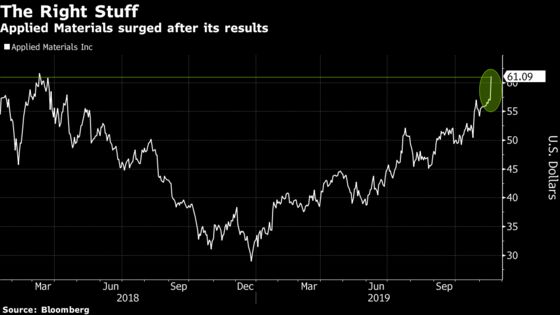 Argues that investors are willing to pay a 15x-16x multiple on peak earnings, creating a path to $80+ per share
AMAT is "seeing early signs of a recovery in 3D NAND flash given 96/128L technology upgrade related spending"
Boosts PT to a Street-high $75 from $65, reiterates outperform rating
"From here, focus turns to the recovery in 2020"
Expects AMAT's Silicon business to grow by at least 10%, supported by new product introductions as well as sustained new wafer capacity adds
Raises PT to $70 from $60 and reiterate outperform
RBC Capital, Mitch Steves
Believes the upside to logic/foundry was expected after Lam Research results
"We think we're at the start of a recovery period for semi-cap equipment"
Maintains outperform and raise PT to $67 from $63
Margin performance was slightly better than expected and the EPS beat was primarily driven by stronger than expected revenue and $500 million of share buybacks
1Q guidance indicates improving demand into 2020, driven by a record backlog
Expect demand to improve in 2020 as memory customers restart capacity buildouts
Raise PT to $70 from $54 and maintain overweight