Apple Supplier AMS Plummets Most in a Decade
(Bloomberg) -- Apple Inc. supplier AMS AG plunged the most in a decade in Zurich after its margin outlook disappointed.
AMS produces optical sensors for mobile phones, which manage color, brightness, and whether the handset is being held against the ear, and has recently expanded into 3-D sensors.
Apple's push into augmented reality has made AMS a crucial supplier for the optical components it needs to differentiate its flagship phone from competitors' offerings. The question for AMS investors is how long their advantage in that technology will last.
The weakening in fourth-quarter margin is due to AMS's product mix, "as overall demand is skewed to a mix including certain higher maturity products," the company said.
After an internal review, AMS is stopping its drive into environmental sensing to focus strongly on mid- and long-term products such as photonic elements, which are key for the movement of large amounts of data.
Market Reaction

Shares in AMS fell as much as 31.5 percent Tuesday, the steepest intraday decline since January 11, 2008.
AMS short interest had climbed to a record 30 percent of free float as of Friday, according to Markit data. The stock has lost more than half of its value this year after tripling in 2017.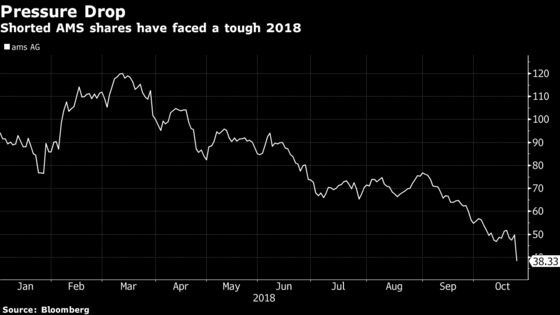 The company's fourth-quarter operating profit margin outlook "fell short" of expectations, Baader Helvea analyst Guenther Hollfelder said in an e-mailed note.
The company now expects an adjusted fourth-quarter earnings margin before interest and taxes of 16 percent to 20 percent, compared to 27.3 percent in the same period last year, Baader said.
AMS is also in the early preparation stages for a planned secondary listing on the Hong Kong Stock Exchange in the second quarter of 2019.