Apple Drops After Warning But Analysts See Short-Term Hit
(Bloomberg) -- Apple Inc. shares fell on Tuesday, after the company said the fallout from the coronavirus would cause it to miss its sales targets this quarter.
The news was not entirely unexpected, as the iPhone maker has been grappling with the virus for several weeks, and the fallout has resulted in some manufacturing delays and closed retail stores in China. Last month, it issued a wider-than-usual sales forecast on account of the virus.
Analysts conceded the uncertainty and risk stemming from the virus in China, a country that is both a key part of Apple's supply chain and a major source of revenue; nearly 17% of Apple's 2019 revenue came from the country, according to data compiled by Bloomberg. However, they also argued that the impact from the virus would be temporary, and they still see reasons to be bullish over Apple's long-term prospects. A similar argument was extended toward several Apple suppliers.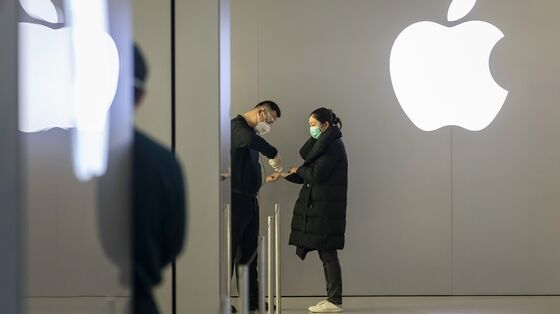 Shares fell more than 4% before the market opened, though they recovered some of that ground and last traded down 2.6% in the regular session. The day's decline comes after a surge of more than 80% off a June low, and Apple remains less than 4% below a record hit just last week.
Here's what analysts are saying about Apple's outlook cut:
LONGBOW RESEARCH (Shawn M. Harrison)
"While the coronavirus outbreak is dampening demand in China near-term," along with production, the firm still sees "strong global demand"
The impact from the virus "will be mostly recouped once the environment normalizes"
Buy rating, $350
"Absent a longer running Coronavirus impact," the "broader story remains very much intact, and [Baird] would be buyers on weakness"
Outperform, $360
KEYBANC CAPITAL MARKETS (John Vinh)
"While the coronavirus creates supply and demand uncertainty in Asia, demand in North America remained robust" in January
CASCEND SECURITIES (Eric Ross)
The announcement "shouldn't be a surprise" and "is more positive than we had expected"
Supply chain disruptions "are likely to be temporary," although there is "definitely less economic activity in China because of the virus"
Buy rating, $375 price target; there is "tremendous value" in Apple's ecosystem and installed user base
BERNSTEIN (Toni Sacconaghi)
The announcement "is not entirely a surprise," though "it does highlight the transactional nature of Apple's business and its dependence on China"
"Hard to know" if the revenue shortfall will be "lost" or merely "pushed out" to future quarters; "we suspect a bit of both"
Market-perform rating, $300
"This is likely to be viewed as a transitory event," although it "highlights an inherent risk with Apple being too exposed to the supply chain in China"
Equal-weight rating, price target trimmed to $297 from $304
Views "the coronavirus related weakness as transitory"
Buy rating, $350
As with every other company operating in China, the situation on the ground continues to evolve
While the firm reduced Apple forecasts for the March and June quarters, this is a temporary issue for Apple
Regarding June quarter, effects are mainly supply-oriented as expected new products like the SE 2 and iPad Pro roll out potentially push out and Apple finds itself without enough inventory more broadly
Goldman has a neutral rating on Apple
ERSTE GROUP BANK (Daniel Lion)
Apple's warning will not be the last; AMS will be hit as they haven't factored in any impact from the coronavirus, STMicro should also see some slowdown while NXP won't be able to avoid an impact, either
The issue is the disturbed supply chain, which will impact most producers to some extent
Hard to say if the impact will be limited to this quarter
Apple didn't provide a new forecast for fiscal 2Q20 revenue on Monday and it's still uncertain -- probably for the company, too -- how much the guidance will be affected
Apple is expected to announce a new, cheaper iPhone model this spring, and it's unclear if delays in China will affect that launch
Read-across is negative for companies exposed to Apple, such as AMS, STMicro, Dialog and Soitec