Apple Shares Climb as Morgan Stanley Sees Revenue Issues as Temporary
(Bloomberg) -- Apple Inc. rose for a second day as Morgan Stanley said a slowdown in services revenue last quarter looks "temporary in nature" and mostly related to AppleCare.
Analyst Katy Huberty continues to see positives for the services division after revenue rose 18.3 percent year-over-year in the fiscal first quarter, down from 25 percent normalized growth in the prior quarter, she said, citing the company. As much as $425 million of the estimated $600 million shortfall may be attributed to AppleCare, which was hurt by the decline in iPhone sales, Huberty said in a note to clients.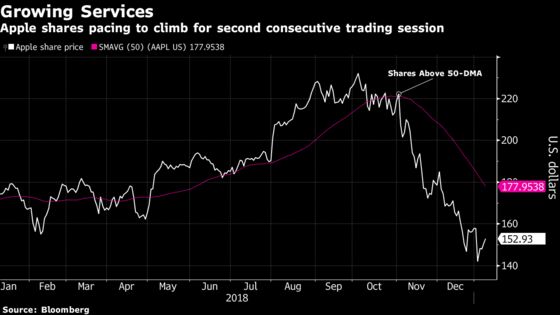 Apple rose 1.5 percent at 11:25 a.m. in New York, adding to Tuesday's 1.9 percent gain. The stock is still down 3 percent from where it was before cutting its sales forecast a week ago. The shares haven't traded above their 50-day moving average since November, months after analysts first began raising red flags about slowing demand and potential weakness in China.