Apollo Pay Revamp Gives Bosses Shot at $860 Million in Stock
(Bloomberg) -- Apollo Global Management Inc. is giving co-Presidents Jim Zelter and Scott Kleinman a shot at more than $860 million in stock payouts as the firm -- trying to move beyond leadership turmoil and expand from private equity roots into more services -- retools rewards.
The pair of Apollo veterans will forfeit unvested carried interest and each receive 1 million new shares annually over five years, with an additional 1 million shares tied to incentive targets, according to a regulatory filing on Thursday. The total value of their stock awards would exceed $430 million each if their targets are met, based on Apollo's current share price.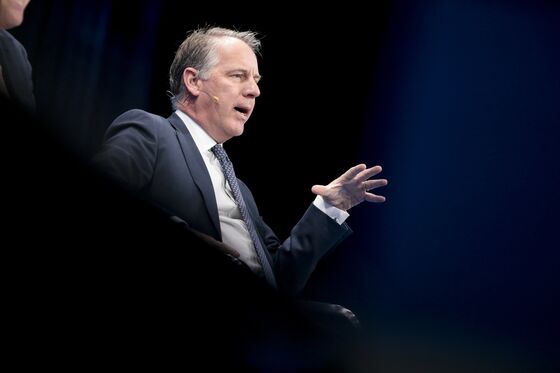 The move is part of sweeping changes in compensation practices at Apollo that also call for about 100 of its senior leaders to receive long-term stock-based awards and will trigger a one-time non-cash charge of $1.1 billion in the fourth quarter. Chief Executive Officer Marc Rowan and the co-presidents won't get carried interest generated from investments going forward.
Rowan, who took over when co-founder Leon Black stepped down after months of controversy over ties to Jeffrey Epstein, told shareholders in October to expect a "fundamental reset" in pay practices. The alternative asset manager is broadening its mix of businesses and has pledged to make corporate governance more shareholder friendly. 
The goal "is better alignment between employees, shareholders and clients," Rowan said at the time. "We are taking these steps intentionally to set us up for long-term success and growth." 
Yet the new stock awards also underscore the riches available to executives atop investing giants amid Wall Street's escalating war for talent. Banks and money managers are under pressure to pay more as profits rise in a pandemic that's pushed corporations to do more deals and central banks to intervene in the economy, driving up asset prices. 
But at banks, compensation remains under public scrutiny in the wake of the 2008 financial crisis. Recently announced incentive programs for some of the industry's most prominent leaders -- such as Goldman Sachs Group Inc.'s David Solomon and JPMorgan Chase & Co.'s Jamie Dimon -- are a fraction of what Apollo may end up paying its co-presidents.
Also of note: Some of the new awards at Apollo entail extended non-compete periods.
Apollo shares have gained 47% this year in New York trading, trailing private equity rival Blackstone Inc., whose shares have more than doubled. 
Apollo has pledged to double assets under management, currently $481 billion, and fee-related earnings over half a decade. It's looking to manage more assets for a steady fee rather than raising money from investors. As Rowan took over, the company also agreed to merge with Athene Holding Ltd., an annuity provider it helped create in 2009, expanding in areas such as insurance and retirement services. 
Rowan, who's worth $6.3 billion, owns a stake in Apollo worth $2.5 billion, according to the Bloomberg Billionaires Index. He won't receive any additional stock awards as part of the changes, which include extending his employment agreement by two years, taking him through 2023.
But other executives are being offered the option to forfeit their existing carried interest in exchange for long-term equity awards. The firm is also introducing a supplemental annual cash stipend of $250,000 for its partners and some executives.
While parts of the firm are shifting to a share-based incentive structure, those working directly on private equity deal-making will see their share of carried interest, or the cut of profit on deals, go up.
Among corporate governance changes since Rowan was tapped to run the firm, Apollo is ditching super-voting shares for executives so that each investor has a single vote. It has expanded its board to include a new independent director -- former Securities and Exchange Commission Chairman Jay Clayton --  and ensure two-thirds of directors would be independent.