Apollo's Leon Black Says Credit Markets Are In 'Bubble Status'
(Bloomberg) -- The credit markets are facing excesses as investors chase yield, Apollo Global Management LLC co-founder Leon Black said.
"The credit markets, unlike the equity markets, have gone to bubble status," Black said Wednesday at the Goldman Sachs Financial Services Conference. "The amount of covenant-less debt is more than 2007. You have a thirst for yield that exists on a global basis. So there is true excess."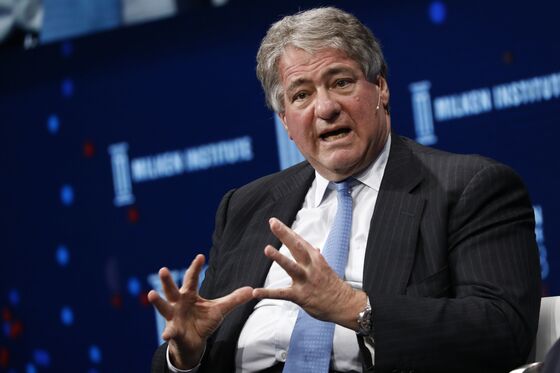 Black said that in this environment his private equity business tries to get as much covenant-lite as possible, and fixed rate debt. Apollo takes the opposite approach in its credit business where the firm makes sure to have covenants.
"We try to play a more conservative, cautious role in a bubble environment," said Black, who's also chairman and chief executive of Apollo.
Black said the firm's credit and insurance operations offer the most growth potential.
"We are still in the very early innings in both our credit and insurance businesses," Black said. Credit could become a $300 billion to $400 billion business in the next three to four years, he added.
Among Black's other comments:
He expressed some regrets about the firm's decision to take ADT Inc. public. "I would have waited longer to take ADT public," he said. "We got it done at $13 versus our cost of $5. Then it has proceeded to go down to $7 5/8 today. The public market isn't always rational," he said. "A lot of that is because of disruption concerns even though we have a joint venture with Amazon."
On the prospect of converting to a C-Corp, he said: "Frankly, I would love to have a shareholder base that included a lot more long only investors. I would love to get in an index. The question is at what cost?" Black said it may take a year to judge whether the conversion of its peers is sustainable or not. KKR & Co. and Ares Management Corp. have already made the switch.