Apollo Global Emerges as Leading Bidder for Arconic
(Bloomberg) -- Apollo Global Management LLC is the leading bidder to take aerospace manufacturer Arconic Inc. private after a months-long sale process, according to people familiar with the matter.
Apollo made a final offer for Arconic last week that was selected over a bid from a rival group of private equity investors, said the people, who asked not to be identified discussing the negotiations. Terms of the deal couldn't immediately be learned. While the parties may enter exclusive negotiations soon, no final agreement has been reached and talks may fall apart, they said.
Arconic shares fell less than 1 percent in New York at 10:39 a.m., valuing the company at $10.3 billion. Including debt, Arconic has an enterprise valuation of $15.2 billion, according to data compiled by Bloomberg
As part of the transaction, Elliott Management Corp., which owns a 10.7 percent stake in Arconic, will roll its holding into the new entity. The parties are also working on a structure that may ringfence liabilities related to Grenfell Tower, a London high-rise that caught fire in a tragedy that killed more than 70 people, the people said. Arconic produced flammable materials used in the tower's cladding.
Representatives for Apollo, Arconic and Elliott declined to comment.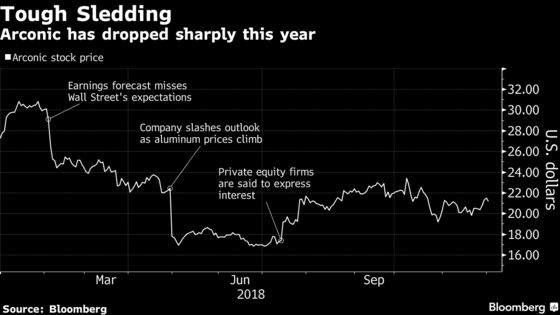 The buyout would cap a brief-but-tumultuous period of independence for Arconic, which makes aircraft and automotive parts. Since splitting with aluminum producer Alcoa Corp. in late 2016, Arconic fought a proxy battle with activist investor Elliott, replaced its chief executive officer and drew unwanted attention for its connection to the deadly apartment fire.
While Arconic has slumped this year while grappling with operational shortcomings and rising aluminum prices, the shares have rebounded somewhat in recent months amid reports of private equity interest. Arconic declined 21 percent this year through Friday, compared with a 3.2 percent rise in the S&P 500 Index.
CEO Chip Blankenship, a former General Electric Co. executive, put Arconic's building and construction systems unit up for sale in July as part of a broad portfolio review. He also agreed to move the company's headquarters out of New York to help cut costs.