Apax's One Call Said to Reach Deal With Holders on Debt Swap
(Bloomberg) -- One Call Corp., the workers' comp service firm, clinched a deal to rework its debt and improve liquidity by offering sweeter terms on a note exchange.
The revised transaction, which has already been completed, was a smaller deal open to certain first- and second-lien creditors, people with knowledge of the matter said. The new PIK toggle notes consist entirely of first liens, the people said, asking not to be identified discussing a private matter. The company's bonds jumped on news of the deal.
The prior version covered only second-lien holders, and offered a mix of first and second liens that varied based on how many investors participated. Like the first offer, the revised version allows One Call to pay interest on the new debt in cash, or pay in kind with more first-lien notes at a slightly higher rate than originally envisioned, the people said.
One Call also launched an exchange offer for its term loan facilities under the credit agreement, the people said. The company told investors that certain holders have already committed $103 million of term loans to the exchange, according to the people. The deadline is set for Feb. 26, the people said.
The note exchange covered certain holders of existing 7.5 percent senior secured first-lien bonds and 10 percent senior secured second-lien bonds due 2024, the people said. The holders agreed to exchange $258 million of the notes for $235.3 million of first-lien, senior secured payment-in-kind toggle notes due the same year, with interest of 7.5 percent in cash or 11 percent in more first-lien PIK notes, the people said.
One Call on Tuesday dropped its previous exchange offer after resistance from investors, who were asked to swap $404 million of second-lien 2024 notes for two sets of bonds, only some of which were first liens. Those new first liens would have totaled only $90 million, and the PIK interest rate was just 10 percent. The switch to all first liens on the new notes strengthens claims on assets for the holders if One Call gets into financial difficulty later on.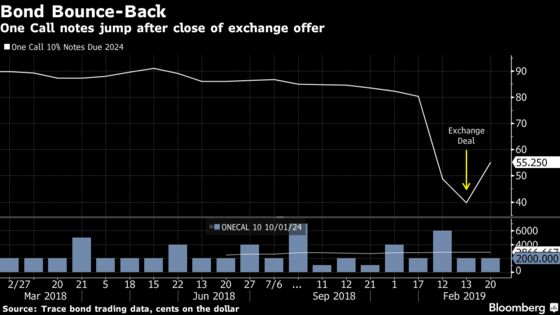 The company, owned by private equity firm Apax Partners, has been working with law firm Kirkland & Ellis as legal counsel and Bank of America Merrill Lynch as the notes agent on the transaction. Representatives from Apax and Bank of America declined to comment. One Call and Kirkland didn't immediately return requests seeking comment.
Jacksonville, Florida-based One Call coordinates care for injured workers on behalf of payers, by managing the delivery and scheduling of specialty health care services and products through networks of contracted providers, according to its website.
The company's second-lien notes due October 2024 jumped more than 15 cents on the dollar to 55.25 cents on Wednesday after the exchange was announced, up from 39 cents when it traded on Feb. 13, according to Trace bond trading data. The 7.5 percent first-lien notes traded around 87.75 cents on the dollar.