APA Plunges Most Since 2008 as Australia Blocks CK Pipeline Bid
(Bloomberg) -- Australian pipeline operator APA Group fell the most in a decade after the government blocked CK Group's proposed A$13 billion ($9.5 billion) offer for the company on national security concerns.
In a preliminary ruling on the offer, Treasurer Josh Frydenberg said Wednesday the deal would be "contrary to the national interest," and may create too much foreign ownership by a single company group in the gas transmission business. APA declined 9.9 percent to A$8.57 in Sydney.
Analysts said the rejection opened up the prospect of an alternative deal, with the Hong Kong conglomerate potentially teaming up with an Australian partner with a new offer.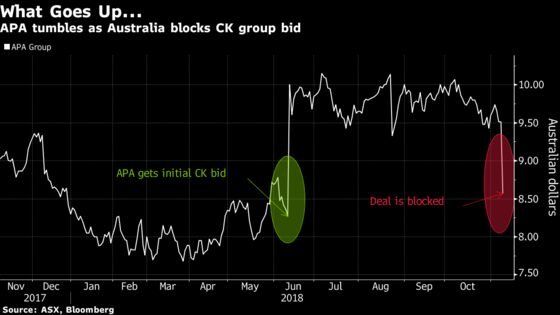 Here's what analysts are saying:
Ongoing regulatory risk to pipeline tariffs and forward earnings are key risks to the outlook for APA's business
Sees increased downside risk as shippers seek a better deal either via arbitration or commercial negotiation
Sees APA shares trading toward bank's "fundamental valuation" in the absence of another bid
Maintains a neutral rating on the stock with a target price of A$8.30 a share
Not clear if it's a "high conviction" ruling from Treasurer but expect market to read it that way
Sees APA share price dropping toward the high-A$7 to mid-A$8/share range
Media have speculated about possible deal from Industry Funds Management, which wouldn't have regulatory, concentration concerns
Deal may have chance to proceed if CK teams up with other investors willing to pay same price
CK Group may shift focus to another takeover target, Spark Infrastructure, where it already owns 51% of two main regulated assets; SKI deal could occur in 3-6 months
Group led by CK advised by top Australian infrastructure banks; further investors could be introduced to the consortium
An alternative bidder may well be waiting for an opportunity given CK has done all the "heavy lifting"
The decision scuppers what would have been the Hong Kong-based conglomerate's biggest overseas deal, which would have given it control of pipelines that deliver about half of Australia's gas. Rising electricity prices and blackouts have made energy security a hot political issue in the nation, and an overseas acquisition of critical infrastructure would have been sensitive for Prime Minister Scott Morrison's government.
Morrison, who served as treasurer before replacing former Prime Minister Malcolm Turnbull in August, has blocked several deals involving China-linked companies in the past three years, drawing ire from the government in Beijing.
Though Hong Kong is part of China, it's a specially administered region with its own mini constitution that allows for some freedoms more comparable to the West than the mainland. CK companies, which aren't state controlled, are headed by the son of Hong Kong's richest man, Li Ka-shing, who retired earlier this year.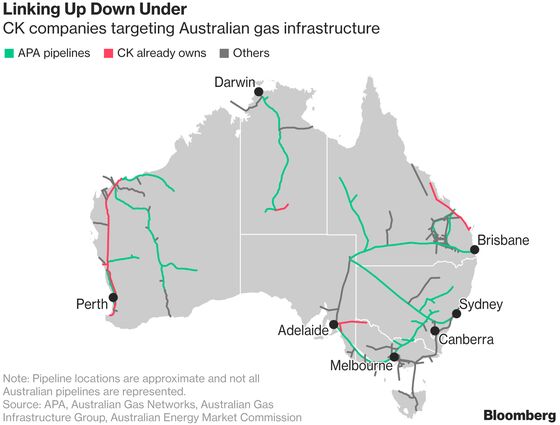 CK, whose Australian portfolio includes power distributor Duet Group, has been blocked in the nation before. The government rejected a bid by CK Infrastructure in 2016 for the electricity network Ausgrid, saying it would undermine national security.
Read More:

Why Frydenberg blocked CK's bid on national security concerns
How Australia is trying to counter China's South Pacific influence
How the CK ruling has echoes of an earlier rejection
The decision risks inflaming diplomatic tensions in China, just as Marise Payne made her first visit by an Australian foreign minister to China in almost three years. Following talks with her Chinese counterpart Wang Yi on Thursday, Payne said the decision to block CK's offer was "not an adverse reflection on the business itself, on CK Group or its individual companies."