Two More of Australia's Big Banks Raise Home Loan Rates
(Bloomberg) -- Two more of Australia's big banks have raised home loan rates as funding costs climb, heaping additional pressure on indebted households.
Commonwealth Bank of Australia, the nation's biggest mortgage lender, and Australia & New Zealand Banking Group Ltd. both raised their key standard variable mortgage rate Thursday, joining Westpac Banking Corp., which was the first of the big four to move last week.
The move comes even as the central bank holds official interest rates at a record low, and may squeeze borrowers already struggling with stagnant wages growth and the highest levels of household debt among G-20 nations. The out-of-cycle increase could also further deflate the housing market by deterring investors, who have already been hit by lending restrictions and an 11-month drop in prices.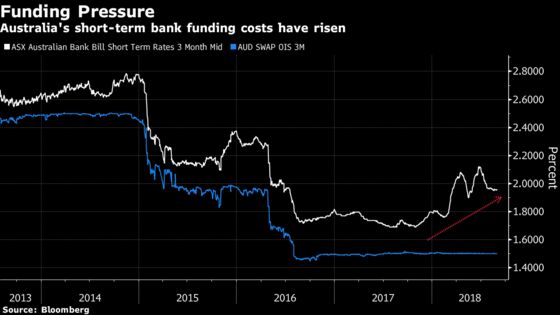 The rate increase is "not enough on its own to create a housing crash," Louis Christopher, head of property research firm SQM Research, said on Twitter. "However, it is enough to further dampen housing demand at a time when there are fewer buyers and many more sellers."
While Australia saw the highest annual economic growth in almost six years in the second quarter, the result masked underlying weakness in consumer finances. Data released Wednesday showed Australians are raiding their bank accounts to maintain their still-healthy spending habits, with household savings falling to the lowest level in 11 years.
Reserve Bank Governor Philip Lowe, who has repeatedly cited household consumption as one of the main domestic risks for Australia's economy, repeated the warning as recently as Tuesday following the latest rate decision. Later that day, he noted in a speech that some banks were lifting rates and told borrowers to "shop around'' for better deals, while adding that the average rate was still lower than it was a year ago.
Shares of both banks initially jumped on the announcement, before erasing gains to be little changed in afternoon trading in Sydney. The Australian dollar fell, to be fetching 71.79 U.S. cents at 2:33 p.m. local time.
Owner P&I
Owner interest-only
Investor P&I
Investor interest-only
Westpac
5.38%
5.97%
5.93%
6.44%
Commonwealth
5.37%
5.92%
5.95%
6.39%
ANZ Bank
5.36%
5.91%
5.96%
6.42%
"This was a difficult decision given we know the impact rising interest rates have on family budgets," ANZ Group Executive Australia Fred Ohlsson said in the statement. "The reality is it is more expensive for us to fund our home loans on wholesale markets."
Short-term domestic funding costs reached a two-year high last quarter even as the central bank held its benchmark rate at 1.5 percent. Australian lenders, which are reliant on offshore borrowing to fund their loan books, are also facing elevated costs overseas as the U.S. Federal Reserve raises interest rates.
The increase in funding costs has come at an inopportune time for the big banks. They're trying to restore their reputations in the wake of a series of scandals that led to a wide-ranging inquiry into misconduct in the financial sector, which in turn unearthed further wrongdoing. Resentment a 2016 central bank interest rate cut wasn't fully passed on to borrowers helped stoke a sense banks were gouging customers, and fueled calls for the inquiry.