ANZ Bank Lashed by Government After Holding Back on Rate Cut
(Bloomberg) -- Australia & New Zealand Banking Group Ltd. failed to pass on in full the central bank's quarter-point cut in official interest rates, earning an immediate rebuke from Treasurer Josh Frydenberg.
"I am very disappointed in the decision by the ANZ Bank," Frydenberg said in a televised press conference Tuesday after the Melbourne-based lender reduced its key variable rate by 18 basis points to 5.18%.
Westpac Banking Corp. may attract similar criticism after its announcement later Tuesday that it would cut its variable home loan rate by 20 basis points to 5.18%, short of the official reduction. Commonwealth Bank of Australia and National Australia Bank Ltd. avoided the government's ire by cutting mortgage rates the full quarter-point.
Australian banks had faced pressure to pass on the first reduction in official rates in almost three years after having their reputations sullied during an inquiry into financial industry misconduct. The probe uncovered a string of scandals that has seen lenders pay out hundreds of millions of dollars in compensation to customers given poor financial advice and charged for services they never received.
Even Reserve Bank of Australia Governor Philip Lowe admitted he was breaking with his usual practice when asked if banks should pass on the rate cut in full.
"My usual practice in answering this question has been to explain that there are a range of other factors that influence mortgage pricing, and then say 'it all depends'," Lowe said in the text of a speech in Sydney Tuesday night.
"Today, though, I would like to break with my usual practice and provide a clearer answer. And that is: Yes, this reduction in the cash rate should be fully passed through to variable mortgage rates," he said. "Full pass-through would also mean that the economy receives the full benefit of today's policy decision."
The big banks are seeking to bolster profit growth after a disappointing results season that saw earnings crunched by shrinking net interest margins and a slowdown in lending.
"While we recognize some home loan customers will be disappointed, in making this decision we have needed to balance the increased cost in managing our business with our desire to provide customers with the most competitive lending and deposit rates possible," Mark Hand, the head of ANZ Bank's Australia retail unit, said in a statement.
Commonwealth Bank and National Australia took the opposite approach, conceding community expectations played a role in passing on the full rate cut.
"We strongly believe reducing rates is the right thing to do by our customers and reflects our focus on earning trust in the community and rewarding our loyal existing customers," said Mike Baird, National Australia's chief customer officer, consumer banking.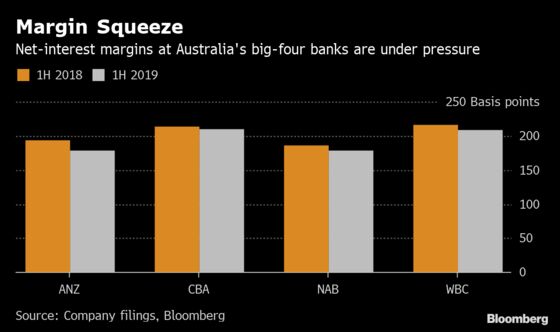 To read more on bank results:
Westpac Profit Falls in 'Disappointing' First-Half Result
National Australia Bank Shares Decline After Dividend Slashed
ANZ Bank Profit Rises 2%; Slowing Credit Weighs on Outlook
The ANZ Bank and Westpac decisions may receive further criticism, given funding costs have fallen this year. Australian banks, which are reliant on offshore borrowing to fund their loan books, have benefited after the U.S. Federal Reserve killed off the prospect of further interest rate hikes, and traders started to price in the likelihood the Fed will soon start cutting rates.
"I think there's an element of social responsibility" for banks to pass on the rate cut in full given the state of the housing market, said Kerry Craig, global market strategist at JPMorgan Asset Management in Melbourne. "But then you worry about the banks' interest margins and their profitability."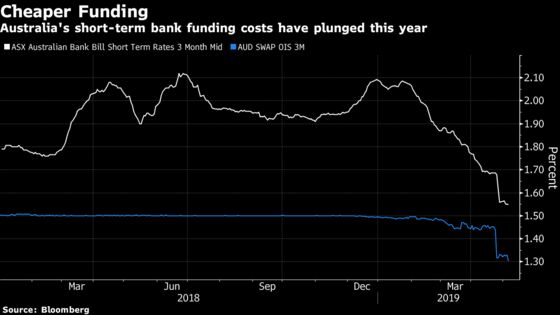 The move by Commonwealth Bank, the nation's largest home lender, and No. 3 National Australia Bank to pass on the maximum rate cut, may give a further shot in the arm to the property market, which is starting to show signs of emerging from a near two-year slump. Australia housing values have fallen 8.2% since peaking in September 2017, according to CoreLogic Inc., led by steep declines in Sydney and Melbourne.
The quarter-point cut will shave about A$62 ($43) a month off repayments on a A$400,000 mortgage.