Anyone Want to Call Apple's Cut a 'Little Glitch'?: Taking Stock
(Bloomberg) -- Apple's "darkest day in the iPhone era," as one analyst put it, an FX flash crash during the twilight trading hour, and mega biotech M&A with Bristol-Myers buying Celgene makes for a heck of a futures session (e-minis off ~36 handles and eyeing Wednesday's lows).
China landing on the far side of the moon amid a frustratingly long trade war whose impact on corporate balance sheets is being felt more with each passing day is just icing on the cake.
But Apple is the obvious overhang for stocks today, and odds that the Cupertino smartphone maker's first revenue forecast cut since Steve Jobs introduced the iPhone back in 2007 are a "little glitch," to use the phrase coined by President Trump yesterday in describing the market rout, aren't high.
For one, traders certainly aren't treating this as a one-off thing. Shares are near overnight lows, down 8.5% and poised to open at their lowest level in a year and a half, and the carnage is spilling over into the Apple suppliers (Europe's AMS is plunging 20% and Dialog Semi is off 9% while U.S. names Broadcom, Skyworks and Qorvo are all indicated way down), the tech-slash-momentum arena (Micron, Nvidia, Netflix, Square, Spotify all sliding 2%-3%), and the rest of the tape with the QQQs plumbing the morning's low point.
Some likely figured that the iPhone demand concerns and China jitters were mostly baked in, given 1) the slew of Apple suppliers cutting forecasts set off by Lumentum way back in early November, 2) media reports and tech blogs that have been hinting at weaker than expected sales ad nauseam, and 3) the fact that Apple has handily underperformed every other member of the FAANG complex over the past two months.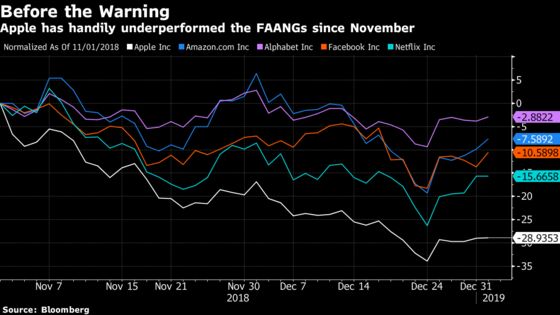 But the magnitude of the cut versus a bullish-to-optimistically-neutral consensus (only 2 of the 49 analysts covering Apple carried a sell rating prior to last night's news) and the biting comments in Tim Cook's letter about challenges in China and "rising trade tensions" were clearly more than the investing community could stomach.
The Apple fiasco hit just hours after Tesla got punished by almost 7% for cutting prices on its cars. It also hit only a couple weeks after two spooky corporate updates that some may have already forgotten about: FedEx taking a knife to its outlook and blaming global trade frictions in the process, and semiconductor Micron cutting its capex on near-term supply/demand.
The warning also arrived on the first trading day of the new quarter, thus casting a dark cloud over the upcoming preannouncement season.
Recall that last quarter's preannouncements were a disaster that prompted multiple ominous Taking Stock column takes, like "Something Alarming Happened This Week. It Matters" - and there clearly was something to all of the scares given the ensuing panic over near-term growth prospects and, of course, a breakdown in the U.S. stock market.
Some may look towards Apple's supply chain and the entire semiconductors spectrum for the next shoe to drop (or rather the ones that have yet to take numbers down), but this is a warning shot to any multinational with a shred of exposure to the trade war. I'd have to think that Boeing, Caterpillar, 3M and their ilk are now squarely in the bullseye.
Another Test for Dip Buyers
It only took two hours to erase a near 40-handle tumble at the open of Wednesday's session.
And so the dip buyers continue to gain momentum (S&P 500 is up 6.8% since the Christmas Eve close), which is something they've rarely had since the big meltdown was set off in early October.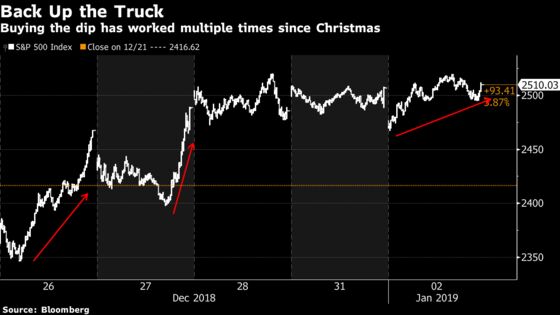 But the Apple news could be a complete game changer, as this is a shock warning from arguably the most important company in the stock market and one of the largest companies in the world (though worth noting that more than a quarter of its market value has already vanished into thin air since it hit the trillion dollar mark in August).
Or perhaps not. Maybe it turns out to be like the initially horrifying China manufacturing data from Tuesday night that was drowned out by political noise and a lot of rubbernecking over the intraday spikes in the oil markets.
Maybe the market shrugs it off and swings into the green like nothing happened. Institutions could be looking to nibble on tech down here, or help keep beaten down sectors like the banks and the homebuilders afloat.
Anything would be better than watching some of the stock market's dreck from 2018, like GE, Coty and Perrigo (three of the five worst performers in the S&P 500 last year) leading the pack as they did on Wednesday. Those could easily turn out to be fakeout rally setups, as mentioned in yesterday's Taking Stock - but if tech ends up having a respectable session, that may be something else altogether.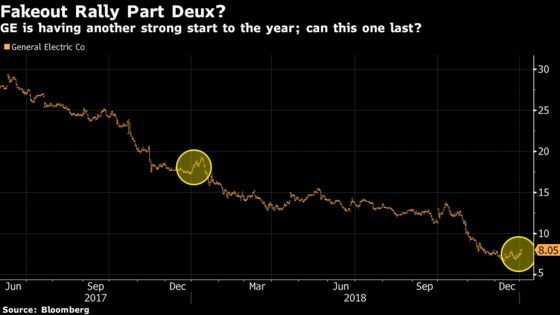 Today is all about Apple, so here are some of the key takes:
New Street Research's Pierre Ferragu, one of the two lonely bears on Apple prior to the warning (downgraded to a sell in early August), just upgraded the stock to a neutral
Goldman's Rod Hall, who was ahead of the curve with three price target cuts in November on signs of weak iPhone demand in China, is reducing his target again to $140 on "potential for further downside to FY19 numbers depending on the trajectory of Chinese demand in early 2019"
BofAML expects further consensus negative revisions to pressure shares in the near term
Morgan Stanley sees shares range bound until we get more visibility into the March quarter with January earnings
RBC says investors were bracing for a disappointing print/outlook anyway and the stock is getting close to trough valuation support (pegged at ~$140-share)
Wedbush is staying bullish on the Apple story despite the "black eye" results, calling for a relative valuation floor in the $130-$140 range
Elsewhere, we have Credit Suisse upgrading two industrial conglomerates in Honeywell and Emerson to outperform in a 2019 outlook piece, Morgan Stanley expecting auto companies to use the upcoming Detroit Auto Show as an opportunity to guide down, and Goldman raising its sector view on the solars as "green shoots are emerging" (First Solar and Canadian Solar both move to buy).
Tick-by-Tick Guide to Today's Actionable Events
Today -- Monthly auto sales
Today -- ACT Research preliminary Class 8 truck orders expected
7:00am -- SMPL earnings
7:30am -- Fed's Kaplan on Bloomberg TV
8:00am -- UNF earnings
8:15am -- ADP Employment
8:30am -- Initial Jobless Claims
9:45am -- Bloomberg Consumer Comfort
10:00am -- ISM Manufacturing, Construction Spending
10:00am -- Byron Wien on Bloomberg TV
10:15am -- PFE at Goldman Health Care CEOs Unscripted conference
4:05pm -- LNDC, RECN earnings
4:30pm -- API oil inventories
8:45pm -- China Caixin Composite/Services PMIs