Any PG&E Bankruptcy Would Pit Bonds Against Burnt Out Homes
(Bloomberg) -- Any PG&E Corp. bankruptcy filing could come down to a fight between bondholders who lent the company money and property owners whose homes were scorched by wildfires.
The utility company has $18 billion of bonds that are unsecured, meaning the debt would have equal priority to get repaid in a bankruptcy as the roughly $30 billion in potential liabilities that analysts have estimated from 2017 and 2018 California wildfires. PG&E recently completely drew down its credit lines.
The company hasn't said it plans to file for bankruptcy, and is still rated investment grade. But some analysts say it may have to eventually reorganize under court protection to clear its fire-linked liabilities.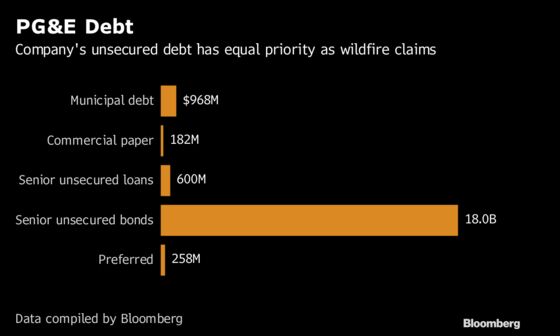 There is a trick that PG&E could use to improve investors' status in bankruptcy, according to Andy DeVries, a CreditSights analyst. If PG&E were to take on at least $5 billion of new debt secured by PG&E's assets, rules governing the existing bonds state that the unsecured notes would also become secured, he said.
"It's an odd situation where the bondholders might want the company to issue more secured debt if it puts them ahead potentially of wildfire claims," DeVries said by phone.