Ant-Backed Food App Boosts India IPO Target to $1.3 Billion
(Bloomberg) -- Zomato Ltd., the Indian food delivery startup backed by Jack Ma's Ant Group Co., plans to raise 93.75 billion rupees ($1.3 billion) in an initial public offering, boosting its target by about 14% as demand in its home market rises.
The bulk of this will be new shares priced at 72 rupees to 76 rupees each, while investor Info Edge India Ltd. will sell as much as 3.75 billion rupees of stock, according to an advertisement in the Financial Express newspaper Thursday. The IPO opens July 14 and closes July 16.
Zomato is among Indian companies taking advantage of a stock rally that has propelled the country's benchmark index to record highs. The company vies with main rival Swiggy as well as smaller contenders in a fast-growing Indian food-services market that Sanford C. Bernstein & Co. estimates will balloon to $97 billion by 2025.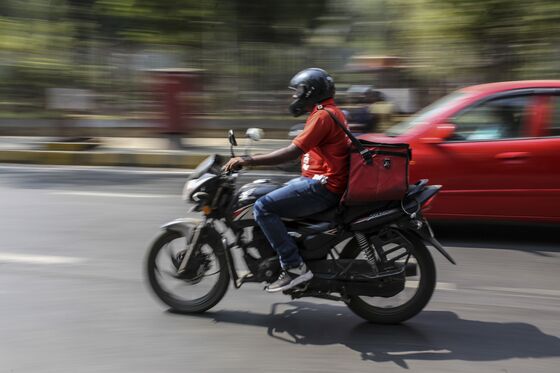 "During the pandemic, Netflix and food delivery were the only entertainment options," Akshant Goyal, Zomato's chief financial officer, said during a virtual media conference. "We've consistently improved margins over the last 8-10 quarters and don't see that changing once Covid-19 eases."
Bernstein values Zomato at about $10 billion, or 7.5 times its estimated annual sales one year out. That's a similar sales multiple that Chinese giant Meituan is valued at, Bernstein analyst Rahul Malhotra said in a note last week.
The IPO will be a boon for Ant Group, which is benefiting from its early investments in Indian internet companies including Zomato and digital payments startup Paytm, set to list later this year. Zomato's other backers include Tiger Global Management and Temasek Holdings Pte.
Zomato said about 1.3 billion shares will be sold if the price ends up in the lower end of the range, and about 1.23 billion shares if it's in the upper end.
Kotak Mahindra Capital, Morgan Stanley India, Credit Suisse Securities, BofA Securities and Citigroup Global are managing the sale.