Another Week, Another Probe Into Peruvian President Castillo
(Bloomberg) -- Peruvian President Pedro Castillo is once again embroiled in scandal, after public prosecutors opened a preliminary investigation into the administration's alleged interference in the state-run energy producer's award of a biodiesel supply contract. 
Castillo said Tuesday that he's cooperating with the probe, has nothing to hide and asked that his bank accounts be made public if needed as part of the investigation.
Prosecutors raided the offices of Petroleos del Peru SA, known as Petroperu, this week and also reviewed presidential palace security camera footage from late October, when local media reported that company representatives were present at the palace.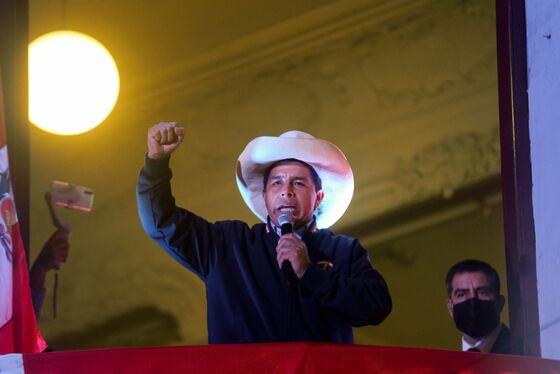 The scandal is just the latest in a series of incidents involving the embattled leftist leader, who hasn't had a moment's peace since taking over the presidency in July. He's already fended off an impeachment vote in congress and is trying to mediate an intensifying conflict between rural communities -- his biggest base of support -- and mining companies that are key to economic growth.
His cabinet members and close aides are being scrutinized and summoned by congress. Two ministers of his latest cabinet have been forced to resign, and the minister of education on Tuesday was censured by lawmakers.
Read more:
Peru Prosecutors Search Presidential Palace in Petroperu Probe
Peru's Castillo to Testify Before Nation's Prosecutor Dec. 29