New Greek Tragedy May Be Bad for Europe: Taking Stock
(Bloomberg) -- Although the exposure of European banks to Greece has been dramatically reduced, the continent really can't afford another crisis in the country. It's already struggling to contain Italy's budget deficit and faces the impact of Brexit, while leaders in France and Germany are having a rough time at home.
It was only last August that the International Monetary Fund ended its third Economic Adjustment Programme for Greece, and the troubled country may encounter yet another financial crisis with its lenders stuck in a downward spiral. Piraeus Bank SA is in an awkward spot as it needs to beef up its capital. Sorting out the financial companies is key to securing the revival of the economy, and to do so, the government is coming up with various plans. But the lack of clarity is playing against the lenders which keep selling off.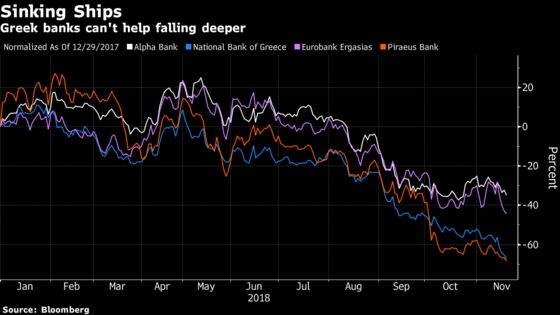 The latest plan includes a direct subsidy to struggling borrowers who could benefit from restructured repayments partially guaranteed by the state. Another blueprint consists of unloading bad loans into special purpose vehicles guaranteed by the government, while a third option would be to create of a so-called "bad bank" that would relieve the lenders of their worst loans.
It's unclear whether all the plans will get the green light or which is the most efficient option to help Greek lenders meet their commitment to slash bad loans by about 50 billion euros ($57 billion) through 2021 to avoid another capital injection. At the end of June, non-performing loans amounted to 89 billion euros. Any plan will require reviving investors' appetite for Greek debt, which, at the moment, is no easy task.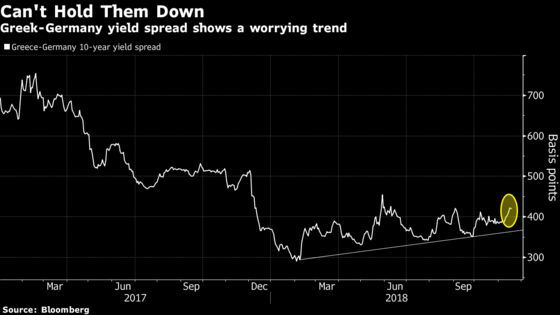 Watch U.K. homebuilders, particularly those heavily exposed to the struggling London market, which could come under pressure following a new report that found the stockpile of unsold homes in the capital has surged by nearly half in 2018. This follows a report from Rightmove on Monday which found U.K. home asking prices dropped in November for the first time since 2011. Watch stocks with a heavy London exposure, including Berkeley Group, Crest Nicholson and Telford Homes. Keep an eye on the sector for any negative readacross, including the likes of Barratt Developments, Taylor Wimpey, Persimmon, Bellway and Redrow.
Watch U.K. stocks overall as the plot to oust Theresa May is faltering, which could lift the pound. Bank of England Governor Mark Carney is appearing before the Treasury Committee, another event with the potential to push the pound around.
Watch European tech stocks after another ugly day for U.S. tech stocks on Monday, with the Nasdaq 100 dropping 3.3 percent. The FAANG giants slumped, semiconductors dropped and broadly anything in the tech or internet industries took a dive. After a dispiriting earnings season that failed to justify the lofty valuations these stocks had reached, the momentum in momentum stocks has turned to the dark side.
"The U.K. index's unique makeup should minimize the earnings blow in the event of a no-deal Brexit, yet the recent plunge in valuations suggests fear of negative revisions to come," Bloomberg Intelligence strategists Tim Craighead and Laurent Douillet wrote in a note. "Gyrations between international and domestic stocks will likely get more dramatic as Parliament decides on the proposed deal."
Mondi plans to simplify the packaging and paper company under one London-traded holding company with a secondary listing in Johannesburg, reflecting the rising proportion of profit from outside its original home market.
Deutsche Bank's global head of emerging markets sales David Posen left the firm last week, Business Insider reports, citing two unidentified people with knowledge of the departure.
Societe Generale settled its longstanding sanctions violations case with U.S. authorities, entering a deferred prosecution agreement with federal prosecutors and paying $1.34 billion to regulators in New York and Washington.
Wirecard Sees 2019 Ebitda EU740-800m, Est. EU766m
Compass Full Year Adjusted Operating Profit Matches Estimates
CRH Sees Full Year Ebitda About EU3.35 Bln
CYBG Full Year Adjusted Pretax Profit Beats Estimates
EasyJet Full Year Headline Profit Pretax 2.9% Above Estimates
Aveva First Half Revenue 2.2% Above Estimates
Casino names Lubek to succeed Giscard d'Estaing as CFO
Activist Investor Harris Lifts Stake in Crisis-Hit Thyssenkrupp
Enel Keeps Dividend Payout at 70% in Energy Industry Transition
Sonova First Half Sales Meet Estimates
Danske Fights Back as Hush Money Allegations Raise New Questions
Sky Wins English Football League Domestic Broadcast Rights
Volvo Chairman; Valuation May Rise If Downturn Handled Well: DI
Julius Baer Oct. AuM CHF395b, Up CHF6b Year to Date
BP Signs Joint Venture With WorleyParsons in New Zealand
L'Oréal: Babule Named Exec VP CFO, Member Exec Committee
BW Offshore Third Quarter Ebitda 2.3% Above Estimates
Raiffeisen Schweiz Taps Huber to Take Over From Outgoing Gisel
NOTES FROM THE SELL SIDE:
RBC starts coverage of Melrose Industries and Vesuvius, both with top pick recommendations with Melrose added to European large cap best ideas list and Vesuvius to its small and mid-cap best ideas.
RBC believes specialty insurance is the place to be in 2019. Lloyd's insurers have taken earnings hits in 2018 but they should be the best place to take advantage of a more optimistic view on specialty insurance pricing next year.
Vontobel writes Fuji Oil Holdings, which is buying Chicago-based Blommer Chocolate in a $750 million bet on the U.S. market, adds to the list of competitors of Switzerland's Barry Callebaut.
TECHNICAL OUTLOOK for Stoxx 600 index:
Resistance at 365.1 (38.2% Fibo); 368.8 (50-DMA)
Support at 353.1 (50% Fibo); 341.2 (61.8% Fibo)
RSI: 36.4
TECHNICAL OUTLOOK for Euro Stoxx 50 index:
Resistance at 3,194 (50% Fibo); 3,262 (March low)
Support at 3,072 (61.8% Fibo); 2,921 (76.4%)
RSI: 39
MAIN RESEARCH AND RATING CHANGES:
UPGRADES:
BP raised to outperform at Raymond James; PT Set to 6.90 Pounds
Dermapharm upgraded to buy at Oddo BHF; PT 28 Euros
Deutsche Boerse upgraded to hold at Berenberg
Lundin Petroleum raised to overweight at JPMorgan; PT 333 Kronor
Melrose Industries upgraded to top pick at RBC; PT 2.35 Pounds
Rotork upgraded to outperform at RBC
Siemens Gamesa upgraded to add at AlphaValue
Voestalpine upgraded to accumulate at Erste Group; PT 36 Euros
Aker BP downgraded to neutral at JPMorgan; PT 315 Kroner
Gjensidige downgraded to neutral at Goldman; PT 147 Kroner
SES GDRs downgraded to reduce at AlphaValue
Smiths downgraded to underperform at RBC
Spirax downgraded to underperform at RBC; PT 64 Pounds
Tryg downgraded to sell at Goldman; Price Target 153 Kroner
Bodycote rated new outperform at RBC; PT 9.50 Pounds
Coats rated new outperform at RBC; PT 1.10 Pounds
IMI rated new sector perform at RBC; PT 10.10 Pounds
J D Wetherspoon rated new underweight at JPMorgan
KAZ Minerals rated new hold at VTB Capital; PT 5.40 Pounds
Morgan Advanced rated new sector perform at RBC; PT 3.10 Pounds
RHI Magnesita rated new outperform at RBC; PT 52.50 Pounds
Sioen rated new buy at Kepler Cheuvreux; PT 29 Euros
Vesuvius rated new top pick at RBC
MSCI Asia Pacific up 0.3%, Nikkei 225 down 1.1%
S&P 500 down 1.7%, Dow down 1.6%, Nasdaq down 3%
Euro up 0.03% at $1.1457
Dollar Index down 0.01% at 96.19
Yen up 0.02% at 112.53
Brent down 0.6% at $66.4/bbl, WTI down 0.4% to $57/bbl
LME 3m Copper down 0.6% at $6220/MT
Gold spot little changed at $1224.3/oz
US 10Yr yield little changed at 3.06%
MAIN MACRO DATA (all times CET):
12pm: (UK) Nov. CBI Trends Total Orders, est. -4.5, prior -6
12pm: (UK) Nov. CBI Trends Selling Prices, prior 10