BOJ Credibility Hit by Another Downgrade to Inflation Forecasts
(Bloomberg) -- The Bank of Japan tarnished the credibility of its price forecasting again with another sharp downgrade of its inflation projections.
Not only did the central bank slash its estimate for core inflation by 0.5 percentage points to 0.9 percent for the fiscal year starting in April, it excluded the likely impact of cheaper phone bills and free education for young children from its calculations.
Had these been included, the cut would have been the biggest single revision in the nearly six years of aggressive stimulus under Governor Haruhiko Kuroda.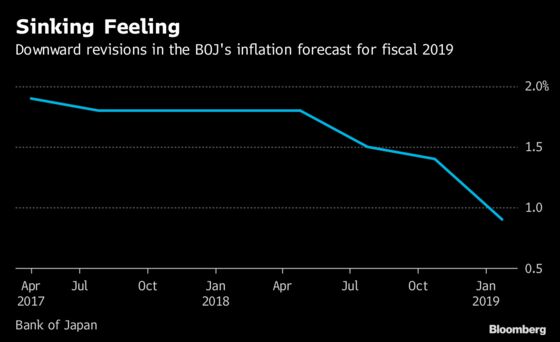 The BOJ has now established a pattern of projecting overly optimistic inflation levels for coming years, only to repeatedly lower the forecasts as reality fails to match expectations.
The central bank's inflation estimate for fiscal 2016 started at 2.1 percent and was eventually revised down to minus 0.3 percent. The BOJ blamed oil then, as it does now.
Kuroda on Wednesday justified the exclusion of cheaper phone bills in the latest forecasts on the grounds that Japanese carriers have yet to announce how they might change their prices. The government has called on phone providers to lower charges by as much as 40 percent.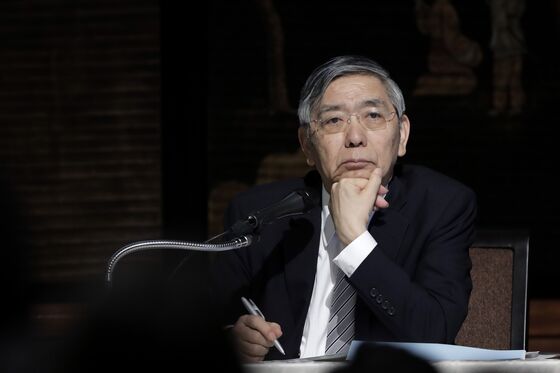 Sharply lower oil prices since autumn had made a lowering of the forecast inevitable given that energy costs have contributed as much as three-quarters of recent growth in overall consumer prices.
If the BOJ had included its own calculations for the government's plans to make education free for young children, it would have cut its fiscal 2019 inflation projection to just 0.6 percent.
Still, even the biggest forecast cuts of the Kuroda BOJ are smaller than the consecutive 1.1 percentage quarterly downgrades seen in the global financial crisis when Masaaki Shirakawa was at the helm of the central bank.