Anheuser-Busch Preps for Bad Fire Season With Pre-Shipped Water
(Bloomberg) -- Anheuser-Busch InBev SA used to wait until after a natural disaster hit before delivering cans of emergency drinking water. But the shifting realities of climate change mean it's now pre-shipping to disaster-prone areas, with the assumption another event is always right around the corner.
The beer maker announced Wednesday that for the first time, it will send 1 million cans of water to volunteer fire fighters in vulnerable areas of California, Colorado, Arizona and other states before the West Coast wildfire season begins again June 1.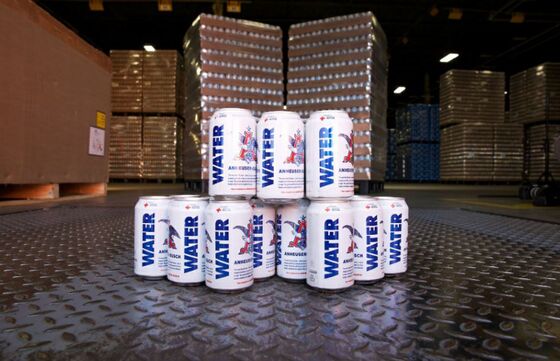 "The reality is there are more wildfires," said Adam Warrington, vice president of corporate social responsibility for the maker of Budweiser and Michelob Ultra. "Hydration needs before, during and after them have evolved."
Anheuser-Busch donates anywhere from 1 million to 4 million cans of water each year to communities after disasters, but after 2017's massive Hurricane Harvey, it started to forecast increased demand, Warrington said. There were 14 separate billion-dollar disaster weather events in 2018 in the U.S. alone.
The world's largest beer producer last year added a second U.S. factory that's capable of halting regular beer production to produce emergency water instead. The cans are particularly useful after disasters, because local water supplies are often compromised and cans are easier to collect and recycle than plastic.