Angola Cuts Borrowing Costs for the First Time in Four Years
(Bloomberg) -- Angola's central bank cut benchmark borrowing costs for the first time in four years, and the same man who presided over the last easing in July 2014 is again in charge of policy.
The Banco Nacional de Angola's Monetary Policy Committee, led by Governor Jose Lima de Massano, reduced its key rate to 16.5 percent from 18 percent, it said in a statement on Tuesday. Massano, who served as head of the bank for five years until January 2015, was reappointed in October after two previous governors each lasted less than 18 months in the job.
See a table showing the history of Angolan interest-rate decisions
Inflation for Luanda, the capital, has slowed for eight consecutive months, reaching 20 percent in June from a record-high 42 percent in December 2016. The rate could fall even lower and the cost of credit is expected to decline, the central bank said.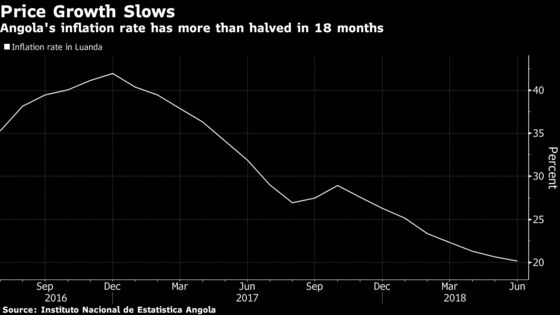 In May, the central bank unified its marginal lending facility rate with the basic interest rate, which was 18 percent, to form the new key rate known as BNA.
Under Massano, the central bank also ended a currency peg held since April 2016. The bid to end a shortage of dollars led to a 34 percent drop in the kwanza this year, the biggest decline among 20 African currencies tracked by Bloomberg. The OPEC member's economy was battered by the crash in oil prices four years ago and is yet to recover.
Angola sold $500 million of 30-year debt on Monday.