And You All Thought Tesla Was the Big News Today: Taking Stock
(Bloomberg) -- Stocks are higher in virtually every market today, with S&P futures nearing the recent peak on a ready-to-be-signed new Nafta pact, Europe's Stoxx 600 trading up (except for the airlines thanks to Ryanair's warning), and the Nikkei shooting up to its highest level in almost 27 years.
Tesla was supposed to be the big corporate news of the day, again. That is until GE happened at 7:00 am, with the stock whipping around (was down almost 5%, now up 11%) on news of a new CEO, an EPS and free cash flow warning, and a non-cash impairment charge related to the Power unit, which has a goodwill balance of ~$23 billion.
The big announcement comes after shares started to spiral downward last week on a dearth of news, and with the shares down 64% since the beginning of last year. It was the focus of a Taking Stock column last Wednesday ("A $100 Billion Giant Is Spiraling and No One Cares") and a story from our company reporter this morning ("GE's $500,000,000,000 Market Wipeout Is Like Erasing Facebook").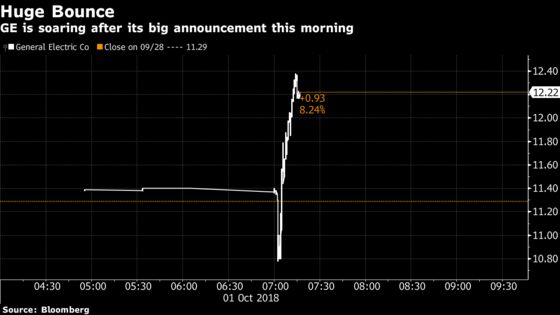 While we wait for some takes on GE, it seems prudent to round up sell-side calls for Tesla now that all sides have settled (Tesla up 16% pre-market), a major overhang is removed and with third-quarter deliveries set to be released any day now. I'd venture to say this is fantastic timing if the 3Q figures are good, as that'll allow the Street to pivot right back to fundamentals and bury the Musk sideshow once and for all.
Though it may not be the easiest thing to do when Musk tweets the words "Naughty by Nature" followed by a winking smiley-face emoji and a link to the "O.P.P." Youtube video, like he did this morning. Anyway, here's what they're saying:
Baird's Ben Kallo says the settlement is positive for all stakeholders and sees focus returning to fundamentals, with several upcoming catalysts, like 3Q deliveries this week, that can drive shares higher
Morgan Stanley's Adam Jonas expects the settlement and its expediency to substantially reverse Friday's share decline; the company avoids worst case scenario, the fines are much smaller than investors anticipated, and access to capital appears to be significantly de-risked
New Street Research's Pierre Ferragu likes the news as the settlement is further proof Musk is a "very reasonable individual" and he expects the excessive aspects of Musk's personality to be much better controlled going forward
RBC's Joseph Spak views this as the best possible outcome given the circumstance and says a more stable company with sounder governance could help with the recruitment of additional (or retainment of) senior talent
Evercore ISI's George Galliers expects a positive market reaction, though doesn't see shares immediately regaining all of last week's losses; sees 3Q deliveries coming in above consensus of 52k
Here's some stuff you might have missed since Friday's close:
Kavanaugh as next SCOTUS justice is holding steady on PredictIt at 66c yes, 34c no; the NYT's Amy Chozick wrote a piece on why Trump will win a second term; one of the more shared stories over the weekend was also from the NYT, which talked about the recession of 2016 in manufacturing-heavy areas that was "the most important least-noticed economic event of the decade"; the WSJ Magazine cover story is an interview with Instagram's Kevin Systrom prior to his resignation from the company; Barron's cover story is a policy roundtable with Goldman's Abby Joseph Cohen, Pimco's Libby Cantrill, Strategas' Dan Clifton, and EventShares CIO Ben Phillips on what midterms could mean for investors ("bad news for the budget, good news for infrastructure stocks"); Slack is reportedly looking to IPO in early 2019 with a valuation well above $7.1 billion; soccer superstar Cristiano Ronaldo, who now plays for the Italian club Juventus (ticker JUVE IM), has been accused of rape, and his lawyers are now out denying the allegation; "The Simpson's" 30th season premiered last night; and Kanye West reportedly got booed after donning a red MAGA hat and going into an impromptu pro-Trump speech that didn't make it to the airwaves.
Notes From the Sell Side
Some changes in the semiconductors space today: 1) Baird downgrades AMD to neutral as most good news is already priced in; 2) Deutsche Bank downgrades both Applied Materials and Lam Research to a hold, as semicap equipment stocks lack positive catalysts, and upgrades Entegris to a buy; 3) Mizuho downgrades both Lam Research and Western Digital to neutral and remains positive on Micron after an Asia trip, noting that NAND ASP pricing will continue to decline at a low-double digit rate through the first quarter and a high-single digit rate through 2019; 4) Goldman recommends investors to stay selective in semis given potential for decelerating growth in 4Q and the first half 2019, and says to buy Nvidia and Xilinx and sell Intel and Texas Instruments.
Also two big calls out on Teva, which is up 4% pre-market, after last week's rough performance where the stock tanked 12%. Goldman adds shares to its conviction list as concerns related to 2H headwinds and Lilly's galcenuzemab approval were already expected and well understood, while Leerink upgraded the stock to a market perform due to improving business fundamentals and increasing multiples for the broader generics sector.
Tick-by-Tick Guide to Today's Actionable Events
Today -- TSLA 3Q deliveries may be released
9:00am -- Fed's Bostic speaks on economic development
9:15am -- VZ CEO Hans Vestberg on Bloomberg TV
9:45am -- Markit PMI
10:00am -- ISM Manufacturing, Construction Spending
10:30am -- GTX CEO Olivier Rabiller on Bloomberg TV
11:00am -- Fed's Kashkari speaks in Minnesota
12:15pm -- Fed's Rosengren speaks on monetary policy
1:00pm -- SWX analyst day
4:05pm -- SFIX earnings
5:00pm -- SFIX earnings call
8:15pm -- Chiefs (-3.5) at Broncos