Deutsche Bank Stock Highest Since Commerzbank Talks Ended
Deutsche Bank AG's long-suffering shareholders have seen a little relief in 2020 as the lender's stock price outpaced all European peers since the beginning of the year.
Germany's largest lender raced to a gain of 13.6% in Frankfurt trading as of Friday, compared with a slight decline for the continent's banking industry as a whole. The shares also hit the highest level since Deutsche Bank broke off merger talks with cross-town rival Commerzbank AG in April.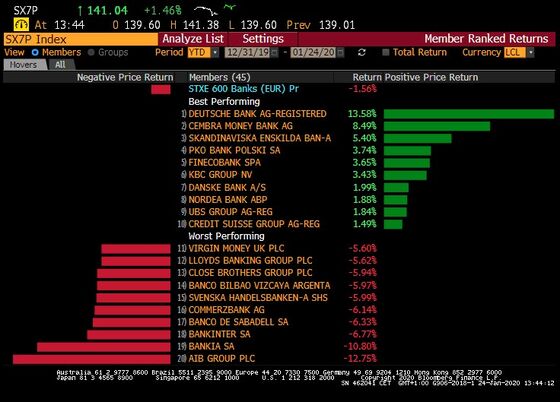 Concern about a potential recession in Deutsche Bank's German home market has abated recently, lifting one potential cloud over the lender's performance. The bank also indicated in December that its fixed-income trading unit will report rising revenue for the fourth quarter, snapping a long streak of consecutive declines.
The rebound comes even as the bank recently lost its last remaining buy rating. That marked the first time since Bloomberg started collecting the information that all equity analysts covering the lender recommend either selling or holding the stock.
Still, the share price falls far short of where it stood when Chief Executive Officer Christian Sewing took over less than two years ago.