Analysts Say Buy S&P 500's 2017 King as Forecast Sinks Stock
(Bloomberg) -- If you liked shares of Align Technology Inc. at nearly $400, you'll love them at $206. Or so say the sell-side analysts who are urging investors to buy on Thursday's weakness.
Sell-side shops including Piper Jaffray, Leerink, and R.W. Baird advised investors to take advantage of the sell-off in "one of the most durable large-cap growth stories" in the medical technology space after shares were punished for a less-than-enthusiastic outlook. Piper Jaffray's Matt O'Brien believes the pricing pressures that led to weaker fourth-quarter guidance will be transitory as Align's promotion programs cease going forward.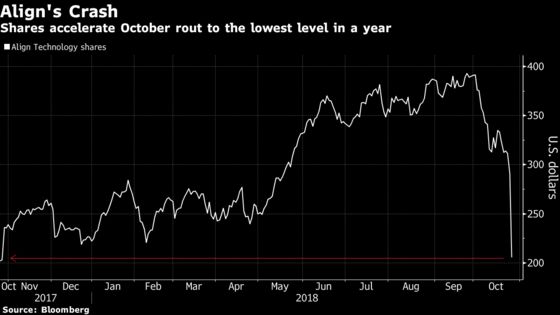 That said, O'Brien slashed his price target for the maker of the Invisalign teeth-straightener by nearly a third to $300 from $440 given the recent re-rating of the stock and the increase to its risk profile after Wednesday's announcement. Shares plummeted as much as 30 percent in early trading Thursday to about $205 per share, the lowest level in a year and and extending a nearly 50 percent decline this month. That's a far cry from the ballooning value that Wall Street ascribed to last year's top performing stock in the S&P 500.
To be sure, a broader risk-off trade punished Align shares leading up to Wednesday night's earnings after shares hit a fresh peak in September. However, skeptics have highlighted risks not only related to the stock's premium valuation, but also from other clear aligner products that may take market share from Invisalign.