Japanese Airline ANA Forecasts Its Biggest Ever Loss
(Bloomberg) -- ANA Holdings Inc. forecast its biggest-ever operating loss of 505 billion yen ($4.8 billion) for the fiscal year through March 2021, the latest airline to face an existential threat to its business due to the pandemic.
The Japanese carrier unveiled a restructuring plan that calls for:
A newly branded low-cost carrier in addition to Peach, the budget airline already operated by ANA.
150 billion yen in cost reductions this year and 250 billion yen the following fiscal period, by cutting procurement, office rents and other activities.
The temporary transfer of hundreds of employees to other companies; 100 by the end of this year, and 400 by spring.
Retiring or halting orders on a total of 33 aircraft, to bring the group's fleet down to 276 planes.
400 billion yen in subordinated loans to bolster finances.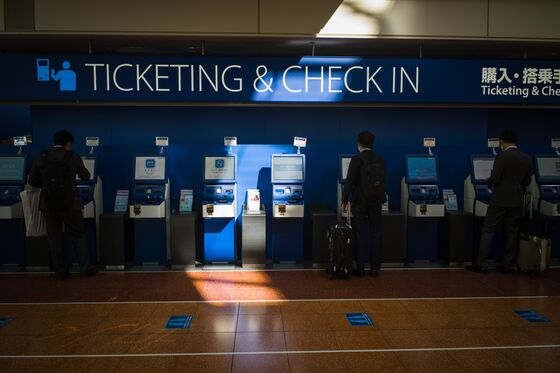 The outlook issued by ANA calls for a wider full-year loss than the 376 billion yen analysts were projecting on average, according to estimates compiled by Bloomberg. ANA also forecast 740 billion yen in revenue for the fiscal year through March, compared with analysts' average prediction for 926 billion yen.
The $838 billion global airline industry is set to see revenue slashed by half this year, with carriers cutting jobs and securing funding to ride out the crisis. ANA, Japan's largest carrier, as well as rival Japan Airlines Co. are suffering from a steep drop in domestic and international passenger traffic. Overseas visitors to Japan fell 99.4% in September from a year earlier as the country largely kept its borders shut.
Bloomberg Intelligence analyst James Teo said the cost management plan, especially the downsizing of the group's fleet of aircraft, was a positive step.
"This is the main driver that will help ANA save 250 billion yen in fiscal 2021 alone based on their guidance," Teo said. "I am less optimistic about their third brand and proposed platform business, as these could require investment and thus now may not be the best time to do these, although they could be good plans to have for the longer term."
ANA shares fell 3.2% before the results and restructuring plan were released. The stock is down 37% this year. Japan Airlines is set to report results on Friday.
ANA is set to receive subordinated loans from five lenders, including Sumitomo Mitsui Financial Group, Mizuho Financial Group and the government-backed Development Bank of Japan. Nikkei reported last month that ANA was considering raising 200 billion yen via a public share offering. Separately, Japan Airlines is seeking to raise about 200 billion to 300 billion yen in subordinated loans, the Kyodo news agency reported earlier this week.
Subordinated loans are usually given to debt-heavy or financially weak borrowers to bolster their financial health, because credit rating companies count part of such loans as capital, helping the businesses enhance their credit status. For lenders, they are riskier than straight loans but typically carry higher interest rates.
"Both JAL and ANA hold enough liquidity to last at least through this fiscal year," Teo said.
For the latest quarter, ANA reported an operating loss of 122 billion yen, compared with the average estimate for a 115 billion yen loss, on revenue of 170 billion yen.
"The results in the first half of the year were very severe," ANA President Shinya Katanozaka said at a news conference. He vowed to return the airline to profitability in the next fiscal year.
Japan, which delayed its plan to hold the Olympics this summer for a year, had prepared for a massive tourism boost, building hotels and redeveloping urban areas. But global passenger traffic won't return to pre-pandemic levels until 2024, according to the International Air Transport Association.
The Go To campaign aimed at supporting domestic travel has helped but local demand is far from fully recovered. ANA and Japan Airlines are both forecasting domestic passengers to drop by about 50% this month. Katanozaka said he expects domestic travel to recover to pre-pandemic levels around the end of the year, thanks to the campaign.
Katanozaka said he doesn't expect ANA to require public funding like Japan Airlines, which filed for bankruptcy protection a decade ago and recovered after receiving a government bailout.