An Uber Outcast's Blank-Check Company Goes Public
(Bloomberg) -- Three years after he was ousted from Uber Technologies Inc. under a cloud of controversy, Emil Michael is back. His latest venture asks investors to buy shares in a company before knowing which business they're actually backing.
The new venture, DPCM Capital Inc., listed its shares Wednesday on the New York Stock Exchange. The offering raised about $300 million, higher than the $250 million initially expected. DPCM Capital plans to help fund one or more companies yet to be identified, but will likely target tech companies based in the U.S., valued in the $1 billion to $2 billion range, according to filings.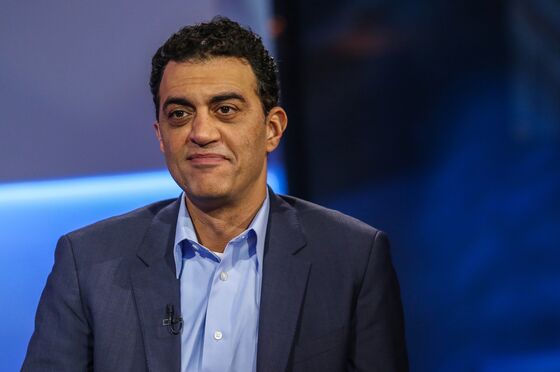 Michael joins a rush of businesspeople, big-name investors and celebrities to start so-called blank-check companies, more formally known as special purpose acquisition companies, or SPACs. More than 130 such deals have raised over $52 billion on U.S. exchanges this year, according to data compiled by Bloomberg. That's roughly 50% more than the total raised in all previous years combined. Hedge fund manager Bill Ackman, former Facebook Inc. executive Chamath Palihapitiya and billionaire Peter Thiel each have blank-check companies of their own.
The format asks investors to place a great deal of trust in the person running it. And it can be lucrative for the creator. The heads of these companies typically receive a stake of about 20%. But there are risks for investors. The U.S. Securities and Exchange Commission has recently given the structure more attention, because it allows companies to go public with less scrutiny than in a typical initial public offering.
DPCM Capital is led by Michael and is affiliated with another figure from Uber's early days, Shervin Pishevar. Michael, the former chief business officer, helped manage Uber's aggressive growth in the middle of last decade while finding himself at the center of several of the company's biggest scandals, including once threatening to dig up dirt on critical journalists.
Pishevar, an adviser to DPCM Capital, was an early investor in Uber. The ride-hailing company and some of Pishevar's other ventures began distancing themselves from the venture capitalist in late 2017 after five women accused him of sexual misconduct. Pishevar and Michael were both close with Travis Kalanick, the Uber co-founder and former chief executive officer, who was ousted from the company by board in 2017 after a series of privacy scandals and culture controversies.
Two other men with ties to Pishevar are involved in DPCM Capital. The chief financial officer, Ignacio Tzoumas, runs a scooter company backed by Pishevar, and the legal chief, Kyle Wood, whose LinkedIn profile lists him as "consigliere" and who is the chief legal officer at Sofreh Capital, co-founded by Pishevar.
All of the men associated with the venture either declined to comment citing regulatory disclosure rules or didn't respond to requests for comment.
Other advisers to the company include Eric Schmidt, the former Alphabet Inc. chairman. Its board of directors is slated to include XPrize Foundation founder Peter Diamandis, Desiree Gruber of brand agency Full Picture and investor Denmark West.