An Investors' Guide to Brazil's Presidential Election
(Bloomberg) -- Brazil investors are making their last-minute bets on how the presidential election will turn out.
With just days to go until Sunday's first-round vote, far-right ex-army captain Jair Bolsonaro and Workers' Party candidate Fernando Haddad are seen as likely to win the most votes and make it to a runoff at the end of the month. The two have opposing views on how to fix Brazil's economy: Haddad wants to boost spending and offer cheap credit, while Bolsonaro's camp has advocated wide-ranging privatizations and overhauls to pensions and taxes.
Investors have become less weary of Haddad, hoping he'll have no choice but to accept fiscal austerity as well, but Bolsonaro is their clear favorite. Stocks, bonds and the currency have soared in recent days as polls show the former Army captain gaining ground among groups that had shunned him for his controversial statements, including women.
"This kind of a runoff will keep the markets on edge and volatility high," said Ian McCall, who advises on $190 million in emerging-market assets at First Geneva Capital Partners. "We are positioned defensively, but watching closely."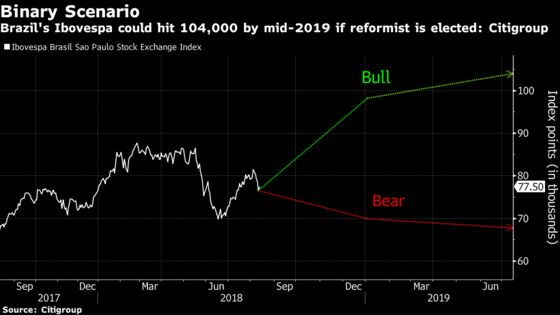 Base case: Bolsonaro and Haddad
If Bolsonaro does well Sunday, it would boost state-run companies on the idea some could be privatized under his government. Winning outright in the first round -- which would require he get more than 50 percent of the vote -- would be even more of a boon, as it might create momentum for his agenda. Shares of Eletrobras, Petrobras and Banco do Brasil have all jumped more than 12 percent this week as Bolsonaro climbed in polls.
"Should Bolsonaro win, we would buy Petrobras bonds as a proxy for sovereign risk along with local currency bonds," said Jim Barrineau, the head of emerging market debt at Schroders.
NCH Capital's James Gulbrandsen has a similar view: "If there's a second round and Bolsonaro maintains or expands his lead, we would consider increasing our positioning in Brazil's state-owned companies."
Another company that should benefit if Bolsonaro does well is Forjas Taurus. Shares of the firearms manufacturer have already more than doubled this year on hopes the more lax gun laws championed by Bolsonaro could improve the outlook for the troubled company.
If Haddad gets more support than expected, however, fund managers are likely to do the exact opposite: cut back on risky positions, including state-run firms. The Workers' Party candidate has said he thinks the spending cap implemented by the current government -- an attempt to stop the bleeding in fiscal accounts -- is "impracticable" and has pledged to support a banking reform that would lead to a reduction of interest rates.
Barrineau said he would consider shorting the Brazilian real as a first reaction to Haddad performing well in the election.
But that's not a consensus. Alejandro Cuadrado, the global head of foreign exchange at BBVA in New York, and Edwin Gutierrez, the head of emerging-market debt at Aberdeen Asset Management in London, have said they expect investors will overreact to either candidate.
"To win the second round both will have to move to the center," Gutierrez said.