An Ex-Nomura Banker Makes Changes at $216 Billion Money Manager
(Bloomberg) -- After the introduction of Japan's stewardship code in 2014, some of the nation's giant money managers are slowly starting to change.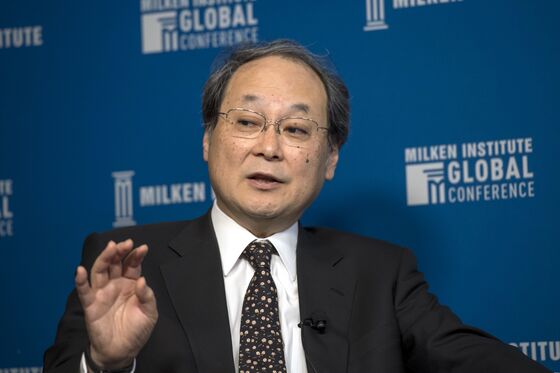 Take Nikko Asset Management Co., the $216 billion investment house that has Takumi Shibata, the former chief operating officer of Nomura Holdings Inc., who resigned over an insider trading scandal, at the helm.
Under Shibata's guidance, Nikko Asset overhauled its board, which now has five non-executive directors among its 10 members. It also beefed up its research team, which takes charge of so-called engagement with companies that it invests in. And it expanded the number of firms where it holds discussions with management on areas such as strategy and capital policy, to 2,100 from about 500. Its peers do so with about 400 firms, according to Shibata.
"We're extremely serious and highly committed," Shibata, Nikko Asset's president and chief executive officer, said in an interview in Tokyo. He says the money manager wanted to get its own house in order before it pressed companies to change.
Japan's asset managers, which have traditionally been hands-off with companies, were targeted by Prime Minister Shinzo Abe when his administration introduced the stewardship code not long after he returned to power. The idea was to get them to press firms to improve profitability and invest excess cash or return it to investors. The voluntary rules were followed in 2015 by the corporate governance code, a set of principles for companies themselves to follow.
"If, by coverage, they mean taking time for each company through engagement, 2,000 is a scale that sounds almost impossible," Kengo Nishiyama, a senior analyst at Nomura Institute of Capital Markets Research, said of Nikko Asset's stewardship activities. "It would mean they're putting in quite a bit of effort."
Nikko Asset added eight people to its research team to focus primarily on interacting with companies' management. It set up a committee comprised mainly of those analysts to oversee proxy voting decisions. Under the panel's watch, Nikko Asset rejected 16 percent of proposals by management from July 2017 through June, compared with the industry's average of about 12 percent, according to Nikko Asset.
Nikko Asset had more than 3,700 interactions with executives at firms in which it invests in fiscal 2017 to push for better corporate governance, according to Shibata. That compares with 2,100 during the year ended March 2014. A team of 30 research analysts, along with the company's fund managers, uses investor relations calls and one-on-one meetings to press firms to change, according to Shibata.
Nikko Asset rejects proposals to appoint non-executive directors if they don't have sufficient independence from the company, a longstanding issue in Japan, Shibata said. It also votes against any proposals that weaken shareholders' rights.
During the latest round of shareholder meetings in June, Nikko Asset opposed all but one of yogurt-drink maker Yakult Honsha Co.'s 15 proposals for the appointment of directors, because its dividend payout ratio was below 20 percent, lower than its peers. For a company called Shin Nippon Biomedical Laboratories Ltd., it rejected all 10 of the firm's proposals, because the company had been in the red for two straight years.
From July last year through June, the money manager also voted against all 62 proposals relating to the introduction or renewal of takeover defenses.
"Poison pills, we hate them," Shibata said.
The company also targets companies that don't use shareholders' funds efficiently, such as those sitting on piles of cash.
"Some cash-rich companies pose very interesting investment opportunities," Shibata said.
Shibata joined Nikko Asset as executive chairman in July 2013 and added the roles of president and CEO the following year. He had resigned from Nomura in 2012. Assets under management went from $164 billion before Shibata took over to $216 billion today, making the firm the third-largest Japanese investment house after Nomura Asset Management Co. and Asset Management One Co.
Shibata says the efforts he made to improve governance and engagement at Nikko Asset have contributed to the company's growth. "It's one of many things" that helped the firm expand, he said.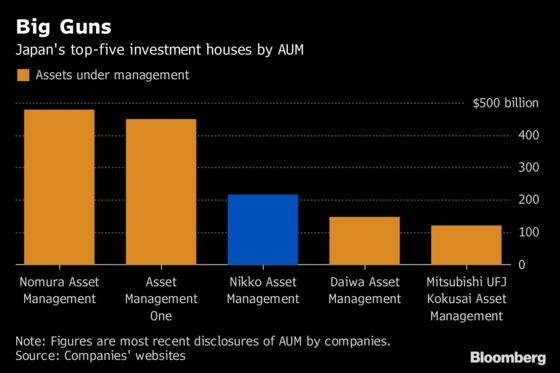 But Nomura's Nishiyama cautions that the Japanese asset management industry still has much work to do.
"Nikko Asset did act relatively fast in getting itself engaged in stewardship activities," Nishiyama said. "But overall, investors still need to work on building deeper trust and understanding with the companies they cover. We still have a way to go."