Amy Schumer Takes Her Raunchy Humor to Spotify in Podcast Deal
(Bloomberg) -- Amy Schumer will host and produce a comedy podcast for Spotify Technology SA, helping the paid music service attract a wider audience and challenge Apple Inc.'s dominance of this growing audio entertainment field.
The show will focus on "pop culture, politics and the world of standup comedy," according to the company, which declined to say when it would be available. Spotify agreed to pay the comic actress more than $1 million for rights to the program, according to two people familiar with the matter who asked not to be identified because the terms are private.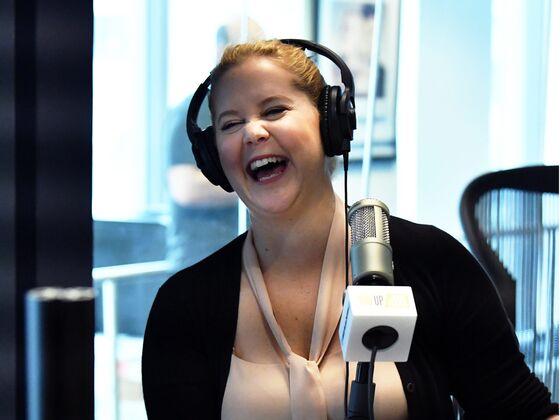 Podcasts offer Spotify a way to build loyalty with listeners, attract new customers and increase advertising sales -- key objectives for the newly public company. Apple currently dominates the podcast market, which has more than doubled to about 73 million monthly U.S. listeners in the past five years, according to Edison Research. Podcast advertising probably topped $220 million in 2017, according to the Interactive Advertising Bureau.
"It's obvious for us to add some things to the service that are unique to us," said Courtney Holt, who oversees Spotify's nonmusic programming. "There's a much greater commercial opportunity than there was even two years ago."
Spotify, based in Stockholm, leads the market for paid on-demand music streaming, with more than 75 million subscribers. Investors value the company at more than $25 billion, and many analysts have bought into its projection that the industry could top 1 billion customers.
But competition looms. Apple, Google's YouTube and Amazon.com Inc. are all spending to catch up, and Apple Music has emerged as a real contender by signing up 40 million subscribers in less than three years.
Spotify sees an opportunity to capture a larger share of the market. Advertising accounts for less than 10 percent of the company's revenue, but is a growing priority since the majority of the company's 170 million total customers use its ad-supported free service.
Podcasts may help Spotify address another problem -- persistent losses. Audio shows have potentially higher profit margins than music. Payments to the music industry soaked up 75 percent of Spotify's revenue in the first quarter even after the company negotiated lower royalties in recent negotiations.
Spotify has dabbled in nonmusic programming for years, licensing videos from ESPN and Comedy Central and funding original series. Yet few users watched the programs, or even knew they were available.
The Schumer podcast will be the first of many new comedy shows coming to Spotify. Under Holt, the company has concentrated more on audio programming, in particular subjects that are popular on radio, like news, music and soon, sports. Spotify has commissioned audio-centric shows from BuzzFeed and Refinery29. The company has tried to attract listeners from Apple by advertising on popular podcasts.
"We thought, 'Let's get audio right,"' Holt said. "We are evolving from just music to nonmusic audio as well."