Amundi Buys SocGen's Lyxor in Bid To Reshape Europe's ETF Sector
Amundi SA agreed to buy Societe Generale SA's fund management arm Lyxor as outgoing Chief Executive Officer Yves Perrier used his last major deal to upend Europe's exchange-traded funds industry.
The Paris-based firm has entered into exclusive talks with SocGen for an 825 million euro ($980 million) cash deal, according to a statement Wednesday. The acquisition, expected to close by February next year, would vault Amundi to Europe's no. 2 ETF manager, second only to long-time leader BlackRock Inc.
For Perrier, who's stepping down in May, the deal caps more than a decade at the helm during which he used acquisitions to make Amundi Europe's largest asset manager. The firm's push into ETFs would help cement its position in one of the industry's fastest-growing areas, as investors desert active funds for cheaper passive rivals. Inflows for Europe-listed equity ETF products reached a record 19 billion euros in March, according to Bloomberg data.
"Today we are number two in Europe, far behind BlackRock," Perrier said in a call with reporters Wednesday. "Let's meet again in five years and we will see that the landscape will have changed very much."
BlackRock, the world's biggest money manager, owes much of its dominance to an early foray into ETFs in 2008. Following the integration of Lyxor, one of Europe's largest ETF providers with about 124 billion euros under management, Amundi sees its combined market share of 14% growing by one point per year. Perrier described that estimation as "conservative" in the call.
Amundi's shares climbed as much as 3.3% in Paris trading, while SocGen's rose as much as 1.7%.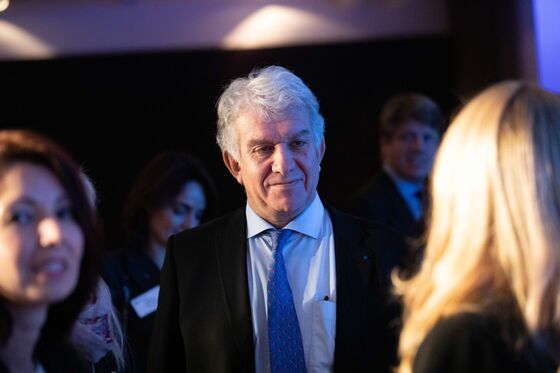 The Lyxor deal is expected to deliver synergies of 60 million euros in costs and 30 million euros in revenues by 2024, and is not expected to result in firings, Perrier said. The company expects less than 50 million euros in integration charges after taxes, which will not affect the group's dividend policy.
A natural consolidator by its size and extensive M&A experience, Amundi is not looking for further acquisitions at the moment as it will focus on the integration of its recent deals, such as the purchase of Banco Sabadell Asset Management last year.
"Doing acquisitions is one thing, achieving their integration is another," Perrier said. "We are not on the lookout, we have enough development engines, and many things to do."
Bloomberg reported earlier that Amundi was the leading bidder for Lyxor.
Amundi, whose majority shareholder is French lender Credit Agricole SA, had about 1.7 trillion euros under management at the end of December. The firm was formed in a merger of SocGen's and Credit Agricole's fund management operations. SocGen later sold its stake and now offers investment products via a range of partnerships with external asset managers.
For SocGen CEO Frederic Oudea, who's been trying to shore up the bank's capital buffers and boost profitability, the transaction boosts his ability to return capital to shareholders. The bank said the deal will result in a capital gain, net of taxes, of about 430 million euros. It has vowed to resume payouts even after its worst year in decades.