AMLO Gets His Chance After Decades as Fixture in Mexico Politics
(Bloomberg) -- Andres Manuel Lopez Obrador's victory on Sunday gives Mexico a new face on the global stage. But for Mexicans, the 64-year-old presidential front-runner has been the most present and talked about politician of the past twenty years.
The leftist firebrand with a mop of silver hair has spent years raging against what he calls a corrupt power mafia represented by the nation's two conservative parties -- the only ones to hold the presidency since the 1930s. While he gained a reputation for pragmatism as mayor of Mexico City from 2000 to 2005, his stances against the nation's oil-industry opening and new airport for the capital have struck fear in business elites.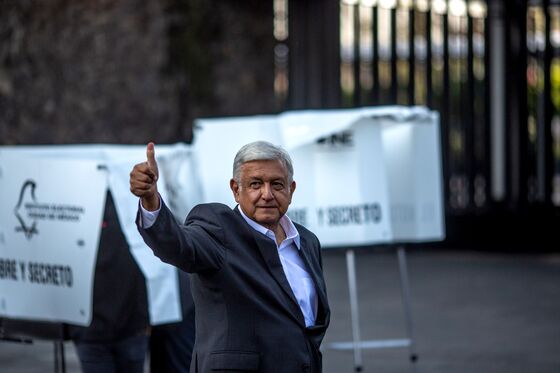 AMLO, as he's known, was elected Sunday on his third bid for the presidency. When he lost on his first try in 2006 by about a half percentage point, he alleged fraud, declaring himself the rightful leader and staging a mock inauguration. His supporters occupied the capital's iconic main boulevard, building a protest camp of tents that paralyzed one of the world's biggest cities for weeks. His refusal to accept the result polarized the public and stoked concerns about his respect for democratic institutions.
"Every Mexican knows who he is," said Sebastian de Lara, managing partner of Navegacion Politica, a risk analysis firm. "He brings out passion, either positively or negatively."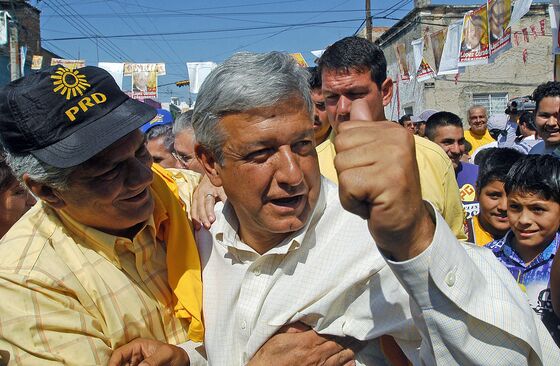 After coming up short in his second bid in 2012 to President Enrique Pena Nieto, Lopez Obrador broke through this year after appealing to voter outrage over corruption, insecurity and lackluster growth under the Institutional Revolutionary Party, or PRI, and the National Action Party, or PAN.
On foreign policy, Lopez Obrador has said he would stand up to U.S. President Donald Trump, who launched his own campaign in 2015 by calling some Mexican immigrants criminals and rapists and has threatened to pull the U.S. out of the North American Free Trade Agreement. Lopez Obrador published a book last year called "Listen, Trump," where he proposes programs and actions to protect the rights of Mexican immigrants in the U.S.
Mexico's front-runner has visited every one of the nation's almost 2,500 municipalities, relying on old-fashioned retail politics to build his support. Perhaps unique in Mexican history, his movement focuses on him personally. He's running under the banner of Morena, a party that he founded and built from nothing after quitting the more-established Democratic Revolution Party in 2012.
Along with its allies, Morena -- both an acronym for national regeneration movement and a reference to the darker skin of many of his poorest supporters -- captured not only the presidency, but also the mayor's office of Mexico City and several governor's offices. Lopez Obrador's rivals conceded within an hour of the end of voting on Sunday night, and an exit poll indicated that his alliance is likely to have a majority in the lower house of Congress.
Lopez Obrador got his start in his home state of Tabasco as a member of the PRI in the 1970s, back when the party was the only in Mexico's south, if not nationally. He left the party and ran for governor of Tabasco for the PRD in 1994. He takes some of his inspiration from Lazaro Cardenas, who served from 1934 to 1940 and is considered the last great Mexican leftist president. He's best remembered for expropriating the nation's oil industry from U.S. and British companies and creating Petroleos Mexicanos, the state-owned crude producer.
Lopez Obrador is married to Beatriz Gutierrez Mueller, a former journalist, with whom he has one son. He also has three sons from his marriage to his first wife, who died form lupus in 2003. His eldest son, Jose Ramon, has been active in his campaign and led his party's campaign for the State of Mexico governor's race last year. The second-eldest, Andres Manuel Jr., has organized the party's efforts in Mexico City.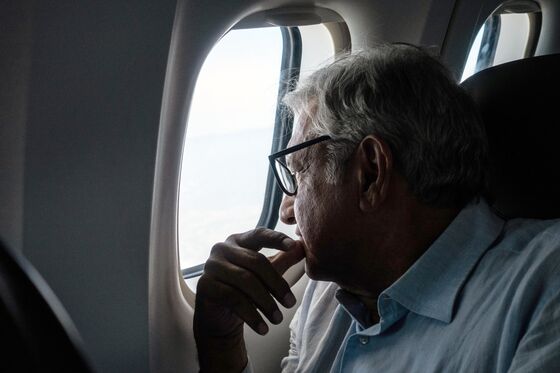 While AMLO criticizes Trump and has even likened some of his rhetoric against Mexicans to that of Adolf Hitler, he isn't averse to all things American. He's a longtime fan of the St. Louis Cardinals. Lopez Obrador said the team was the topic of conversation during a recent meeting with businessmen including Claudio X. Gonzalez, the former chairman of Kimberly-Clark de Mexico, who has long opposed Lopez Obrador's candidacies and platform.
When he's not working, Lopez Obrador likes to spend time at a vacation home in the forest of the southern state of Chiapas called "La Chingada," a self-deprecating joke that politely translates to "an unholy place."