AMLO Cabinet Skipped Davos to Focus on Graft Fight, Envoy Says
(Bloomberg) -- Mexican President Andres Manuel Lopez Obrador asked his cabinet to skip this week's World Economic Forum in Davos to focus on the government's efforts to stop gasoline theft and attend to a pipeline explosion, according to the nation's highest-ranking attendee.
By asking top officials to cancel their travel to the Swiss ski town, AMLO, as the leftist is known, is sending a message about his government's dedication to fighting corruption at home, said Deputy Economy Minister Luz Maria de la Mora, who's leading the delegation. The lack of ministers means Mexico has the lowest-profile government representation in recent memory at an event where its presidents have been regulars.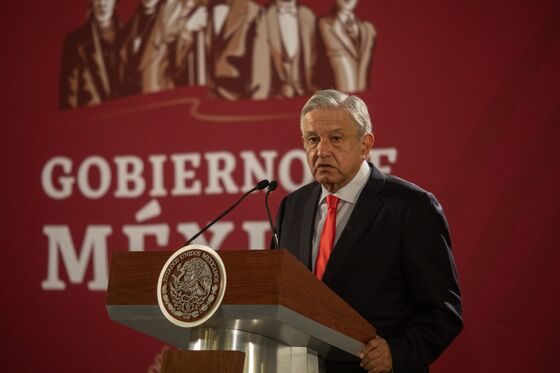 The president remains devoted to attracting foreign investment, which the government estimates will be about $20 billion this year, de la Mora said in an interview at the forum. Lopez Obrador's administration wants to work with Brazilian President Jair Bolsonaro to negotiate broader free trade and expects automobiles to move duty-free starting in March based on the implementation of a prior accord, she said Tuesday in an interview.
"Yes, it's true that a delegation was going to come at the secretary of state level, but the president asked them to stay in Mexico to attend to the emergency," de la Mora said. "That is the reason they are not here. The message we are giving is that for President Lopez Obrador, the fight against corruption is central to his agenda, and he is taking it with all seriousness."
Despite his calls for more private investment in Mexico, Lopez Obrador disbanded investment-promotion agency ProMexico, entrusting its work to embassies around the world. He also spooked investors by canceling the construction of a new $13 billion airport and has repeatedly criticized the overhaul of energy laws approved by his predecessor, which was designed to draw more private and foreign oil investment to Mexico.