Sentiment in U.S. Eases on Less-Favorable Buying Conditions
(Bloomberg) -- Consumer sentiment in the U.S. settled back to a four-month low in May amid less-favorable buying conditions for homes and big-ticket items, according to a University of Michigan report Friday.
Highlights of Michigan Sentiment (May, final)
Sentiment index fell to 98 (est. 98.8) from prior month's 98.8; preliminary reading was also 98.8
Current conditions gauge, which measures Americans' perceptions of their finances, decreased to 111.8 from 114.9 in April
Expectations measure improved to a three-month high of 89.1 from April's 88.4
Year-ahead inflation expectations crept up to 2.8 percent, matching March as the highest since April 2016, from 2.7 percent in prior month
Sentiment remains elevated by historical standards, retaining most of the gains made since Donald Trump was elected president. At the same time, Americans are taking note of rising costs for some items: Consumer references to low or discounted prices for household durables, cars and homes dropped to the lowest in a decade. Favorable buying conditions fell slightly for big-ticket goods, vehicles and houses.
While purchase plans remain at elevated levels, the widespread declines were due to households' assessments of the pricing environment, according to the report. Gasoline costs have advanced to the highest since 2014, though they're yet to set back consumer spending at a time households are benefiting from lower tax withholding from paychecks and a strong labor market.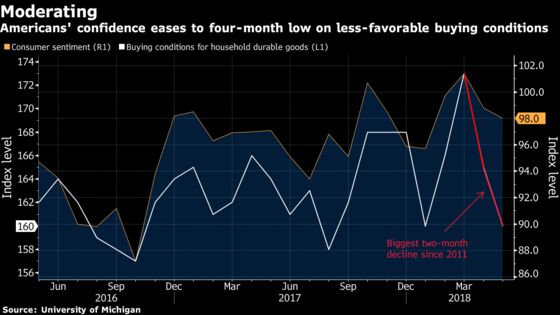 "Net price references were the least favorable for household durables since just prior to the Great Recession, for vehicles since 1997, and for homes since 2006 -- although higher home prices brightened prospects for selling homes," Richard Curtin, director of the University of Michigan consumer survey, said in a statement.
"In past episodes, high and accelerating prices encouraged consumers to buy in advance of those increases. That response is largely absent in all markets except housing," he said.
Consumers anticipated income gains of 1.6 percent, down from 2.2 percent in April and 2 percent last year
51 percent expected the jobless rate to stabilize at current 18-year lows
Inflation rate over next five to 10 years seen at 2.5 percent for a fifth month