American Eagle Among Winners of New Fashion Trend, B. Riley Says
(Bloomberg) -- Current fashion trends -- including logos, street wear, different silhouettes (wider legs versus skinny jeans) and denim -- should benefit brands like American Eagle Outfitters Inc., Abercrombie & Fitch Co. (both A&F and Hollister brands), Urban Outfitters Inc., and Guess? Inc., according to B. Riley FBR analyst Susan Anderson.
In recent years, consumers' apparel interest focused on fast fashion and the athletic wear trend. Now the fashion cycle is shifting back to better-quality apparel wear and different styles, the analyst tells Bloomberg News in an interview at the B. Riley FBR Consumer & Media Conference in New York.
Other tailwinds for retailers heading into the all-important holiday season include lower rents, shorter lease terms and a strong U.S. consumer as evidenced by recent confidence data that came in at an 18-year high. While freight and labor cost pressures are potential headwinds, Anderson says this holiday season could be even better than last year for retailers.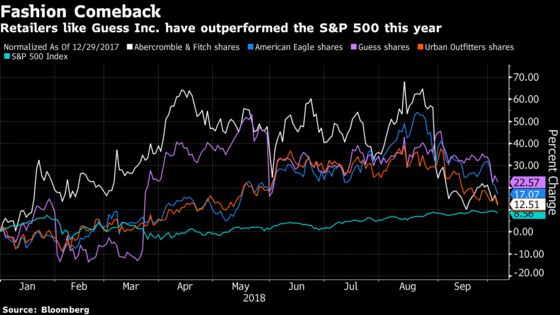 Anderson has buy ratings on American Eagle, Urban Outfitters and Guess. She rates Abercrombie neutral.