American Airlines Targets Higher Growth in 2020
(Bloomberg) -- American Airlines Group Inc. forecast a big increase in capacity this year and said costs will rise, risking pressure to fares and a squeeze on profit.
The amount of available flights and seats will rise as much as 5%, American said in a statement Thursday, following a 1.1% gain last year. Growth will focus on hubs such as Dallas and Charlotte, North Carolina.
While the increase will be in locations where American's dominant position might enable it extract higher ticket prices, analysts typically fear that hefty gains in seat supply can lead to fare competition. The return of Boeing Co.'s 737 Max also raises the prospect of flooding the market.
The Fort Worth, Texas-based carrier also doesn't project significantly more sway to raise fares. It projected that revenue from each seat flown a mile, a benchmark for pricing power, will be flat to up 2% this quarter, typically the industry's slowest. That's in line with forecasts by Delta Air Lines Inc. and United Airlines Holdings Inc.
Nonfuel costs for each seat flown a mile will rise as much as 4% in the first quarter, American said. But that measure excludes the effects of new labor contracts, which are under negotiation with pilots, flight attendants and airport ground workers.
American is one of three U.S. airlines hobbled by the prolonged grounding of the Max. The flight ban that started last March cut $540 million from American's pretax profit last year and the jet is unlikely to return to service before mid-2020.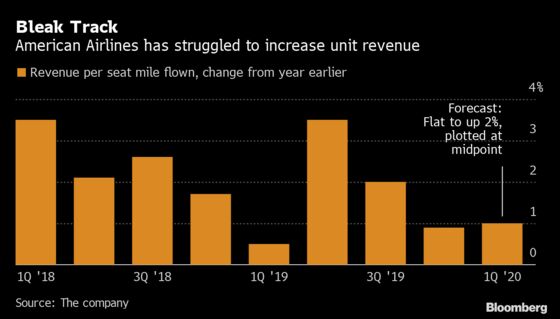 The stock declined 1.2% to $26.99 at 11:41 a.m. in New York. American dropped 4.7% this year through Wednesday, the second-biggest decline in a Standard & Poor's index of the five largest U.S. airlines.
Fourth-quarter adjusted earnings climbed to $1.15 a share, just ahead of the $1.14 expected by analysts. Revenue increased 3.4% to $11.3 billion, in line with expectations.
American said it expects earnings this year of $4 to $6 a share, compared with the $5.09 average of analyst estimates.
Additional coverage
Company statement