American Air Falls as 737 Max Grounding, Fuel Costs Weigh on Outlook
(Bloomberg) -- American Airlines Group Inc. shares slumped as the carrier cut its earnings forecast for this year because of rising fuel costs and the worldwide grounding of the 737 Max.
Parking the popular Boeing Co. jetliner will reduce 2019 pretax profit by about $350 million, while spending for fuel will be $650 million more than expected, the airline said in a statement. The upshot is that adjusted earnings will be no more than $6 a share this year, down from a previous outlook that topped out at $7.50.
"American needs to right this ship and aggressively manage costs while raising price in markets of strength," Helane Becker, a Cowen & Co. analyst, said in a note. Friday's earnings report was the carrier's first comment on the financial effect of keeping the Max on the ground.
The stock fell 2.2 percent to $32.68 at 10:04 a.m. in New York. American gained 4 percent this year through Thursday, trailing the 9.3 percent advance of a Standard & Poor's index of the five biggest U.S. carriers.
American's dimmer outlook puts the world's largest airline back on the hot seat as it struggles to push through substantial airfare increases to offset rising costs for fuel and other items. The stock fell 38 percent last year, easily the worst performance in a Standard & Poor's index of the five biggest U.S. airlines.
The Max grounding, following two fatal crashes since October, is boosting American's expenses. Costs for each seat flown a mile will increase as much as 3 percent this year. The carrier, which has dropped the plane from its schedule through mid-August, previously expected nearly 2 percent. The figure, which adjusts for fuel prices and other items, is seen climbing 4.5 percent this quarter.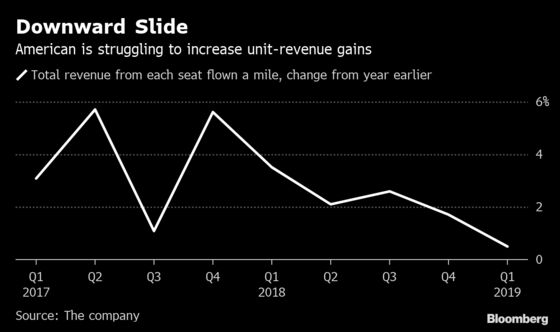 Parking its two dozen Max jets wasn't the only problem American had with its fleet in the first quarter. The airline had to remove 14 Boeing 737-800s from service to fix installation of overhead bins. The two issues forced American to cancel 2,140 flights during the period.
The report had some positive news, including signs that American will maintain a measure of control over prices. Revenue from each seat mile flown will rise between 1 percent and 3 percent this quarter from a year earlier, the carrier said. That's right in the middle of forecasts from Delta Air Lines Inc. and United Continental Holdings Inc. The closely watched gauge increased 0.5 percent at American in the first quarter.
First-quarter adjusted earnings fell to 52 cents a share, a penny more than the average of analyst estimates compiled by Bloomberg. Revenue climbed 1.8 percent to $10.6 billion, in line with expectations.