American Air CEO to Buy the Wine After Losing UBS Share Bet
(Bloomberg) -- American Airlines Group Inc. Chief Executive Officer Doug Parker is ready to pay off a bet he made with an analyst after the carrier's share price fell well short of hitting $60 by Nov. 25.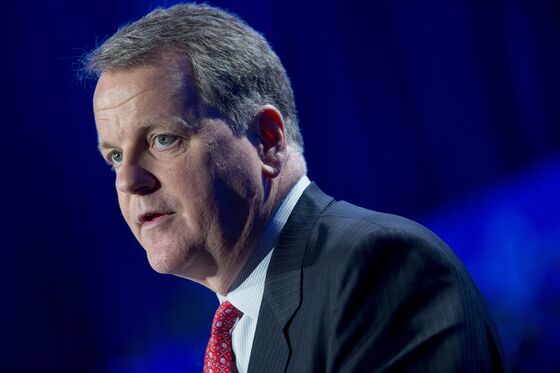 Parker has conceded defeat to UBS Group AG analyst Sam Buttrick on the CEO's wager more than a year ago that American would reach the $60 benchmark before Buttrick turned 60 years old on Nov. 25, according to Matt Miller, an American spokesman. The shares closed at $38.10 on Monday, Nov. 26.
But instead of sending Buttrick the bottle of wine that was his payout, the pair have agreed to meet for dinner "sometime soon," with the CEO paying for the libations, Miller said Wednesday.
The airline executive faced an uphill battle as shares fell 27 percent this year through Nov. 26, the biggest drop among major U.S. carriers. American is still the biggest loser, having fallen a bit since then.
The shares got close to handing Parker a winning bet earlier this year, hitting $58.47 on Jan. 12 -- the highest closing price since the airline merged with US Airways in December 2013. American rose less than 1 percent Thursday to $36.94.
The world's largest airline has trailed rivals Delta Air Lines Inc. and United Continental Holdings Inc. in growth of revenue for each seat flown a mile, a critical gauge of pricing power, and in pretax profit for the first nine months of this year.
American has said it expects a boost from the completion of its integration with US Airways. The company is targeting $1 billion in cost-savings programs through 2021, as well as moves to bolster revenue by $1.1 billion this year and $975 million in 2019.