America's Online Spending Surge Portends Blowout Black Friday
(Bloomberg) -- U.S. consumers have ramped up their online spending ahead of Black Friday, and it's only getting busier from here.
In the first 20 days of November, shoppers spent $31.9 billion online, a jump of almost 17 percent from a year earlier, according to a report from Adobe Analytics. That included the first "$2 billion day of the season," which came on Monday. Wednesday's spending is on track to hit $2.1 billion, it said.
The digital boost comes as retailers battle for online customers, with holiday promotions and delivery deals starting weeks ago at many big-box stores. Target is offering two-day free shipping from Nov. 1 through Dec. 22 on hundreds of thousands of items with no minimum purchase, while Amazon said on Nov. 5 that shoppers without Prime memberships need not buy at least $25 to earn free regular shipping.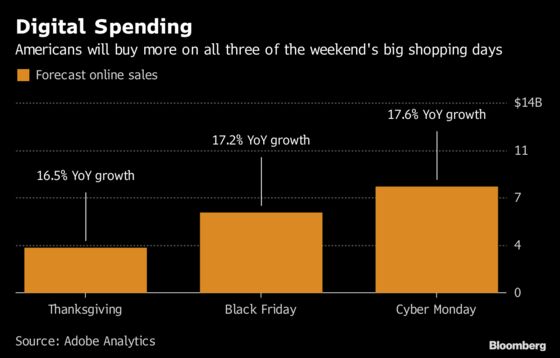 With online sales already up so sharply this month, Adobe has reaffirmed its full-season forecast of $124.1 billion spent online during the final two months of the year.
Mobile phones are the most popular way to shop digitally, accounting for 48 percent of visits to retail websites, the study said. Adobe said that discounts overall were roughly in line with last year, while consumers have so far seen an average of 15 percent off on computers, and 12 percent off on toys. The best deals for most items are still ahead, it said.