America's Missing Beef Opens the Door for Plant-Based Burgers
(Bloomberg) -- Plant-based protein companies have been trying to sway consumers away from beef for years. Now, meat shortages caused by the Covid-19 pandemic are making their job easier.
Faux meat producers have a once-in-a-lifetime opportunity as supplies of beef and pork tighten in the U.S. Wendy's Co. has been running out of hamburgers at some locations, while Kroger Co. and Costco Wholesale Corp. are limiting customer purchases of some meat products.
Soy-based burger maker Impossible Foods Inc. and pea-based meat imitator Beyond Meat Inc., meanwhile, have spread into grocery stores across the U.S. With meat shelves comparatively barren, shoppers are giving those plant-based burgers and bratwursts a shot, according to the companies and market data. Now is the chance for faux meat companies to hook these consumers and keep them coming back.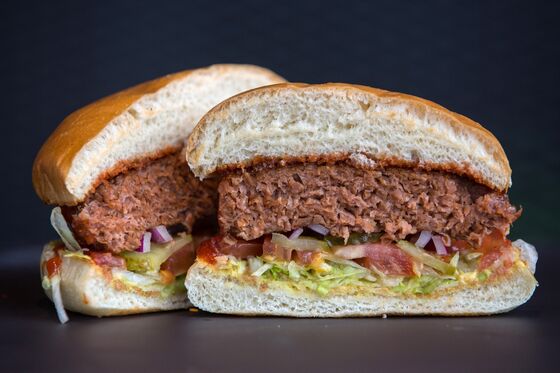 "I think it truly is an opportunity," Bloomberg Intelligence analyst Jennifer Bartashus said. "People will be more willing to embrace plant alternatives."
Like most of the packaged food industry, plant-based proteins are seeing a pandemic bump as shoppers stockpile their pantries. Americans purchased 5.3 million units of fresh-meat alternative products from retailers in the eight weeks ended April 25 -- three times higher than the amount from a year earlier, according to data from analytics firm Nielsen.
That's still a fraction of the 1 billion units of fresh beef and 952 million units of fresh chicken that moved during the same period, according to the data. But the shortages could tilt the scales in the vegan alternatives' favor.
"The spike in grocery sales is potentially attracting new customers to try the plant-based products if traditional meat and dairy are temporarily out of stock," according to Alex Frederick, a venture capital analyst at PitchBook.
Output reductions and temporary closures at slaughterhouses have trimmed more than 30% of America's beef and pork capacity, withering supplies at grocery stores and forcing farmers to euthanize thousands of animals that could not be sent to processors. The reports of "mass depopulation," as the industry calls it, is making some question the whole process, Bartashus said.
The big plant-based players are gearing up to take advantage of the situation. Earlier this week, Ethan Brown, chief executive officer of Beyond Meat, said the company would be discounting its products this summer to better compete with higher priced beef.
Beyond's burgers sell for about $12 a pound. While beef prices are rising, that's still more than double the $5.54 per pound that beef patties are currently sold for, according to data from the U.S. Department of Agriculture.
"It's very early days, and the disruption is one we're all watching," he said in an interview. "We need to take steps to be relevant during this period."
On the same day, faux burger maker Impossible Foods said its products would hit the shelves of more than 1,700 Kroger stores. The announcement came shortly after the biggest grocery-store operator in the U.S. warned it was limiting purchases of some beef and pork products at certain stores.
Impossible Foods CEO Pat Brown said stories of consumers swapping beef for faux beef amid the shortage are still anecdotal, but he referred to heightened scrutiny of the dangerous working conditions in slaughterhouses. Any "spotlight illuminating what's actually involved in producing meat" can only hurt the meat industry, he said.
At Tofurky, a Hood River, Oregon-based producer of imitation meat products, Chief Executive Officer Jaime Athos said sales are popping because of the shortage.
"One of our retail partners told us that they predict animal protein availability to decline by 30%, so they've increased their Tofurky product orders by 30%," he said.
Meatless Farm, a British faux meat maker, reports it's getting more inquiries as well, from both retailers and fast-food chains.
The shutdown of restaurants amid the pandemic does create an issue, however. Beyond Meat said grocery sales surged last quarter, but not enough to completely offset restaurant closures. Impossible Foods has expanded its retail distribution dramatically but still relies heavily on the restaurant industry for sales.
Beyond Meat said it's switching products meant for foodservice to retail channels. Impossible Foods is also working to accelerate its rollout to grocery stores. While Impossible Foods isn't publicly traded, investors seem optimistic about Beyond Meat's prospects: Its shares have advanced almost 70% since mid-March.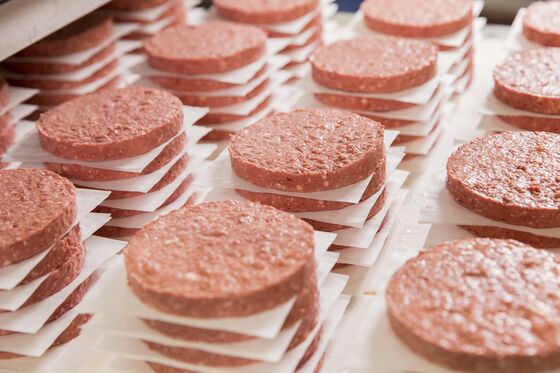 In contrast with the meat industry, production of alternative proteins hasn't reported any hitches. Impossible Foods spokeswoman Jessica Appelgren said the company has had "no supply chain issues at all." Brown, of Beyond Meat, said there hasn't had any trouble getting the ingredients it needs and has "multiple suppliers around the world."
Production of faux meat is also less vulnerable to outages from absent or sick workers because it's more automated and machine-based, which allows for fewer humans.
"It actually takes less manpower to produce a plant-based protein product than it does to produce that of beef," said Kasper Vesth, general manager for Meatless Farm North America. His company's output "relies heavily on machines, which allows for fewer people in our manufacturing plants -- this allows essential workers to maintain social distancing while at work."