AMD and Abiomed Duke It Out for Title of S&P 500's Top Stock
(Bloomberg) -- Abiomed Inc. was king again for a couple hours. And then semi stocks woke up.
The maker of the world's smallest heart pump briefly reclaimed its spot as the top dog in the Standard & Poor's 500 Index on Thursday after second-quarter sales topped expectations and pushed the stock's year-to-date gain above 88 percent. The champagne had barely been popped before Advanced Micro Devices Inc. stole the mantle amid a rebound in chip stocks that extended its annual performance back above 90 percent.
Cybersecurity stock Fortinet Inc., which topped the leader board on Wednesday, slipped into third place.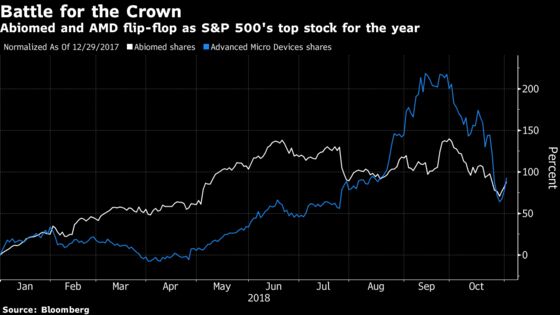 AMD, along with the broader semiconductor space, faced the brunt of the market's recent sell-off after a weak revenue forecast for the fourth quarter sent shares plummeting 15 percent in one session last month. The chipmaker had been up more than 200 percent on the year in September before analysts started pounding the table about a cyclical downturn.
Notwithstanding another shift in sentiment for tech stocks, Abiomed's next shot at a big move is coming up soon. The company is slated to report results from a highly anticipated safety and feasibility study at the American Heart Association meeting on Nov. 11.