Amazon Threat Spurs Investors to Wager on Underdogs
(Bloomberg) -- The FAANGs remain all the rage for many investors, but some money managers are more interested in the companies seen as shattered in their wake.
Their strategy is to capitalize on stocks hurt by overreaction to disruption from the tech giants. One manager has assembled an "Amazon Threat Basket." Another sees the Netflix "wet blanket" effect spelling opportunities.
Call it what you will, these managers believe the downtrodden can outperform the trendier FAANGs. Fear of competition from Facebook Inc., Amazon.com Inc., Apple Inc., Netflix Inc. and Google parent Alphabet Inc. can spur too much selling in less-exciting companies with solid fundamentals, including names like O'Reilly Automotive Inc. and dental-parts supplier Henry Schein Inc.
"It's a case of mistaken identity," Abhay Deshpande, chief investment officer of $570 million Centerstone Investors, said in an interview. "Sometimes it's like a portfolio of misfit toys."
The FAANGs have been favored by hedge funds and other mega investors as they've soared in recent years, though they struggled during last month's market tumult.
As Amazon stormed into new industries, investors "were in a 'shoot first ask questions later' mode" with companies caught in its crosshairs, Deshpande wrote in a Sept. 30 letter to clients.
Deshpande's fund, which only wagers on stocks it believes will rise, started the threat basket more than a year ago. Along with O'Reilly and Henry Schein, holdings include industrial-parts distributor W.W. Grainger Inc., grocer Royal Ahold Delhaize NV and Target Corp.
Henry Schein typifies the anti-FAANGs. In November 2017, the stock was swept up in an industry downturn after a Citigroup analyst warned of Amazon's looming threat. Henry Schein's short interest surged to a peak of 17.6 percent of free float in May, before coming down to 11.4 percent since then. The shares have rebounded 27 percent since the sell-off.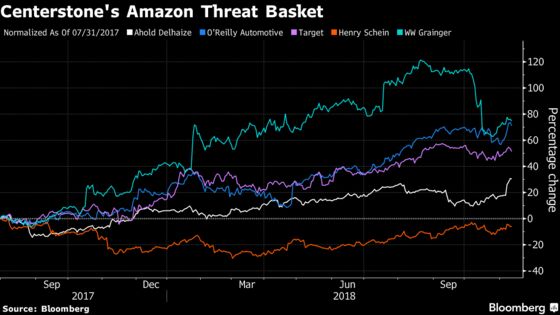 The strategy doesn't always pan out. Take CVS Health Corp., which was an older holding that Centerstone shifted to the "threat" basket when the drugstore chain bought insurer Aetna. The position lost value before Centerstone sold out this June.
Amazon has been a busy disruptor as it increases its fashion offerings, not to mention its expansion into groceries, health care, delivery logistics, film and television, and maybe even brick-and-mortar cinemas.
"You see a lot of shorting of companies disintermediated by the FAANGs," said Jeffrey Vale, CIO of Infinity Capital Partners, which invests in hedge funds.
The idea of going long on some of those stocks is newer. "It means you are probably going against consensus, which is good -- especially as we saw crowded trades really hurt hedge funds in October," Vale said. Hedge funds lost about 3 percent last month amid a global equity market rout, the worst monthly performance for the industry since September 2011.
Stocks that investors saw as unfairly penalized by Amazon fears range from a sporting-goods chain to an auto-parts company.
Discovery Inc.
Netflix is a "wet blanket" for media company Discovery Inc., Tony Scherrer, a portfolio manager at $2.3 billion Smead Capital Management, said in an interview. Discovery has traded relatively cheaply because people view Netflix as a huge threat to traditional TV.
"If you aren't Netflix, you get discounted in Old Media Land almost across-the-board," he recently told Bloomberg Radio.
But investors may have missed Discovery's potential all-platform approach. In September, the stock posted its biggest intraday rally in years after the company won a deal to provide programming to Hulu. Discovery also has partnered with Dish's Sling TV and AT&T's DirecTV Now, and may launch its own streaming service.
Family office Adaptable Capital Management is betting long on Hibbett Sports Inc., a heavily shorted sporting-goods company with more than 1,000 U.S. stores.
"People either love it or hate it as a stock, and part of the reason is the perceived threat of Amazon," said Paul Carter, who runs the portfolio. "People believe they are no longer going to go and shop for athletic shoes at the store. I don't think that's the case."
Hibbett has tumbled to about $19 from an all-time high of almost $68 in December 2013. Carter said the shares are worth $25.