Amazon Set to Break Record for One-Day Gain in Market Cap
(Bloomberg) -- If its pre-market trading holds up, Amazon Inc. is about to break a bigger record than just its own peak share price.
The largest U.S. e-commerce company saw its shares jump by more than 10% after Thursday's earnings report crushed Wall Street estimates. If that gain stands through Friday's close of trading, the company could see its market capitalization surge by more than $90 billion, and push the total value above $1 trillion -- a level the stock has flirted with intraday, but never held through the market close. The company's market capitalization gain stood at $91.7 billion as of 9:30 a.m. in New York when trading began.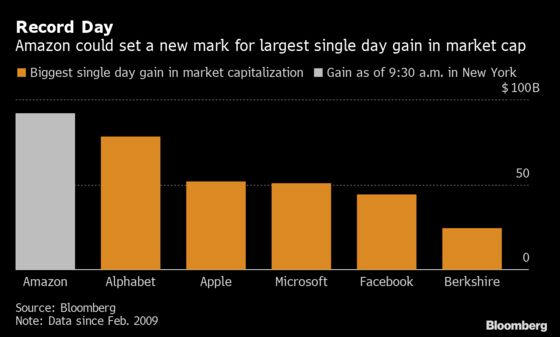 That'd be the biggest single-day gain on record for a U.S. company, according to data compiled by Bloomberg. The previous record was $78 billion, set by Alphabet Inc. on July 26, after its shares surged on its own strong results and a $25 billion share-buyback program.
To be sure, with markets near all-time highs, marks such as this are bound to be challenged. But it's also not everyday that one of the largest companies in the world gains 10% or more in a single session. Over the last five years, the six companies in the S&P 500 Index with current market caps exceeding $500 billion have had just 10 such days combined. Today would be the 11th such occurrence, and the fourth time Amazon has done so, the most of any company in the group.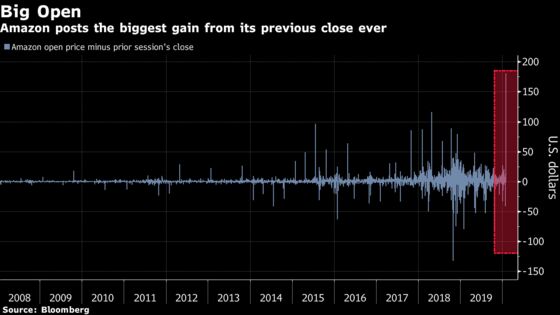 Even if it doesn't break the market value record today, the company has already set another new high water mark for itself. Shares opened trading $181 above Thursday's closing price, its biggest ever gain in dollars per share.