Amazon Invents a New Virginia City in Naming Washington-Area Hub
(Bloomberg) -- Some people say Amazon.com Inc. is taking over the world. That may or may not be true. But it did just invent a whole new city.
Seattle-based Amazon announced Tuesday that its search for office locations had led it to two neighborhoods -- Long Island City in the New York City borough of Queens, and National Landing, "an urban community in Northern Virginia less than 3 miles from downtown Washington, D.C.," the company said in a blog post.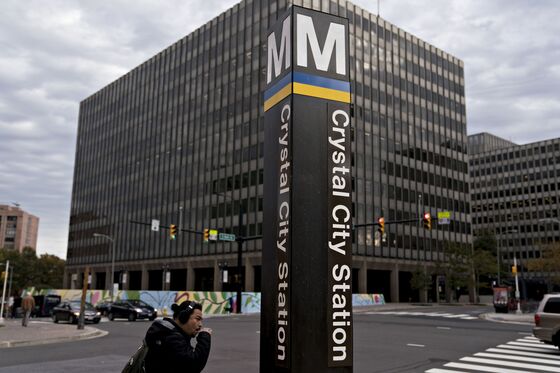 While Long Island City, just across the East River from Manhattan, is well-known, National Landing doesn't appear on maps. Turns out it encompasses the communities of Crystal City and Pentagon City in Arlington County, Virginia, and Potomac Yard in neighboring Alexandria, Virginia. Amazon's offices will be in Crystal City and Pentagon City, while its "innovation campus" will be in Potomac Yard, the Arlington Economic Development organization said.
"It's showcasing the partnership with Alexandria," Cara O'Donnell, director of public relations at Arlington Economic Development.
National Landing was coined in the joint Northern Virginia pitch to Amazon at the start of its search process last year.
"Talk about waking up in a different place than you remembered having gone to bed in?" tweeted Monica Sethi at e-Buzz Edge, a social media marketer. "I woke up today to find out I live in National Landing."
Though it is meant to give all the neighborhoods a boost, it's also an attempt to rebrand Crystal City, known for its drab, '60s office buildings and once known by some as "Crystal S****y," said David Gast, an executive vice president at real estate firm, Colliers International.
"Crystal City had a negative connotation for 30 years," Gast said. "That I get, but doesn't Long Island City have a similar reputation -- why aren't they doing the same thing there?"
Amazon said it will invest $195 million in infrastructure in the neighborhoods, including improvements to the Crystal City and Potomac Yard Metro stations and a pedestrian bridge to Reagan National Airport.
National Landing will have 17 million square feet of office space and 24,000 housing units within 2 miles, affordable "at average Amazon income," according to a website created for northern Virginia's pitch.