Amazon Is a Long Way From Settling Down in Chosen NYC Home
(Bloomberg) -- Amazon.com Inc. is headed to New York's Long Island City, but there's a lot of work to be done before it can actually put down roots in the Queens neighborhood.
The tech giant is initially seeking 4 million square feet in Long Island City to accommodate 25,000 new workers in the next decade, and as much as 8 million square feet over 15 years. With just 2.3 million square feet of vacant office space in the neighborhood, it means they need to get out the shovels.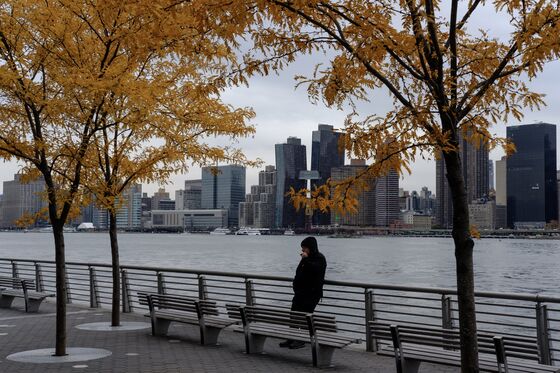 Amazon's proposal to build a campus along the East River "clearly makes the neighborhood more appealing and more expensive," said Rob Speyer, chief executive officer of Tishman Speyer, which is developing apartments and offices in Long Island City. "Over time, it's certainly going to drive incremental demand across all sectors, so not just office space, but apartments, retail, hotels. It should benefit the entire real estate ecosystem."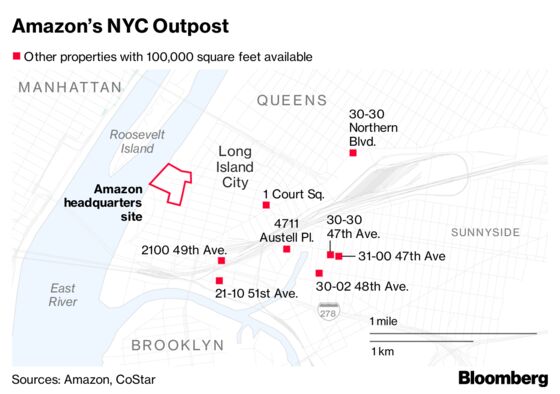 Amazon has earmarked a group of adjacent development sites, some owned by the city and two in the hands of limited liability companies associated with a local family.
Descendants of plastics magnate Louis Pfohl have ties to the entities that own both sites, public records show. Pfohl founded Long Island City-based Plaxall Inc. more than 70 years ago, according to the company website. Matthew Quigley, one of three family members among the company's third generation of leadership, has signed documents for those properties.
A Plaxall spokesman said the family will work closely with Amazon on a plan that "honors the character of LIC."
The location's size and proximity to ferries and subways -- not to mention sunset views of Manhattan -- make it an ideal site for Amazon, said Bill Montana, a senior managing director at brokerage Savills Studley. But while the area is ripe for development, it will take time.
"This site is nowhere near ready for construction," Montana said. "All these sites need to be demolished, assembled. There's a lot of stuff that's going to need to occur before they're going to be able think about constructing anything here."
When construction does begin, Amazon and its development partners will be able to take advantage of additional tax breaks. The entire proposed campus sits in an opportunity zone, a designation that allows investors to defer taxes on capital gains in real estate investments. If they hold the property for at least a decade, they can avoid paying capital-gains taxes altogether on any of the appreciation.
Amazon may need a temporary landing place while it develops its new campus, and Citigroup Inc.'s building -- a sprawling office tower that can be seen from midtown Manhattan -- may be the perfect place, Montana said. Citigroup said Tuesday that it's moving about 1,100 employees out of the property, located at One Court Square, to make room for Amazon.
Amazon could also expand in other parts of New York, such as Manhattan's west side, Speyer said, and its debut in Long Island City could bring a flood of other businesses to that neighborhood, which has seen significant residential construction but relatively little commercial development.
"I've gotten a lot of calls from investors saying they want to buy land, so I think the wave of office is coming," said Adelaide Polsinelli, a vice chair at Compass, a New York-based brokerage. "The next wave is retail."
More restaurants, bars and shops would make the area a more attractive place for Amazon employees to live. Supermarkets, home-goods stores and fitness chains are among businesses that are already showing increased interest in Long Island City, said Aaron Fishbein, a director focused on retail at Winick Realty Group.
"We're seeing a lot of activity -- more so than in Manhattan," he said. "And now with Amazon, obviously, I think we're going to start seeing some of the national tenants emerge with a sense of urgency."