Amazon Bets Thanksgiving Will Get You to Order Groceries Online
(Bloomberg) -- The Thanksgiving turkey is browning, your guests are on route, and you suddenly realize you forgot whipped cream for the homemade pumpkin pie cooling by the window. Amazon stands ready to bail you out.
The world's biggest online retailer is offering quick grocery delivery from Whole Foods stores in Chicago and other cities until 2 p.m. on Thursday, an experiment in applying last-minute convenience to holiday meal prep that has already given it an edge with holiday gift shoppers. Amazon delivered its final Christmas order—which included a remote control toy car—at 11:58 p.m. on Dec. 24 last year.
Amazon's bet on Thanksgiving is the latest example of how retailers, startups and venture capitalists are trying anything and everything to eke out an advantage as grocery sales move online. Walmart Inc. is investing in home delivery with Deliv and other partners to maintain its position as the country's biggest grocer and take advantage of its vast store presence. Kroger Co. in May announced an investment in U.K. online grocer Ocado Group Plc. Venture capitalists are eagerly writing checks for Instacart Inc. and Deliv, which are both seeing big upticks from grocers beyond Walmart. Investors are even betting that a new generation of smart microwaves and toaster ovens will one day automate larder replenishment.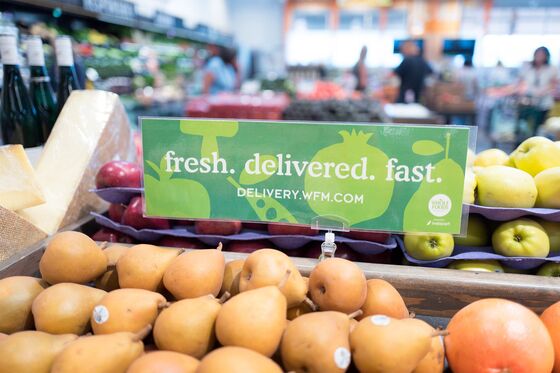 Entrepreneurs and executives have forgotten yesteryear's failures like Webvan and more recent stumbles like Blue Apron. Instead, they're bullish that the biggest of all retail categories is finally entering the digital age.
The holidays could prove them right. About 16 percent of people preparing holiday meals will order groceries online, half of them for the first time, according to a survey by Scottsdale, Arizona, supply chain company JDA Software.
"Shoppers are really moving in a rapid way to grocery delivery," JDA Vice President JoAnn Martin says. "There's no indication this is a fad. Grocery retailers that don't keep improving convenience will be left behind."
Amazon's $13.7 billion purchase of Whole Foods last year put the industry on notice that change was coming and that it would take more than discounted milk paired with end-cap cookie displays to win business. Entrenched shopping habits and consumer desire to pick out their own fresh foods have prevented grocery sales from going online as quickly as books, toys and electronics. But the sheer size of the market means even a small shift is a tremendous opportunity.
Online sales of food, beverages, soap, shampoo, pet food and other items routinely sold in supermarkets will reach $177 billion in 2022, doubling this year's $88 billion, according to Cowen & Co. That will make online grocery a bigger market than electronics and toys combined.
The revived interest in grocery delivery is similar to the investments made in warehouse robotics following Amazon's purchase of Kiva Systems in 2012. Venture capitalists realized retailers and logistics firms would be under pressure to match Amazon, and they funded startups like Fetch Robotics, Harvest Automation and Fellow Robots.
The only difference with grocery delivery is that the bets are much bigger. Target Corp. in December announced a $550 million acquisition of grocery-delivery startup Shipt Inc. to challenge Amazon. Instacart, which uses contract workers to roam supermarket aisles, in October lined up $600 million in new funding; Deliv, which offers same-day delivery service to retailers through a network of drivers, followed with its own $40 million round. Walmart will expand curbside grocery pickup to 3,100 stores in coming months and is experimenting with automated picking and packing of grocery orders.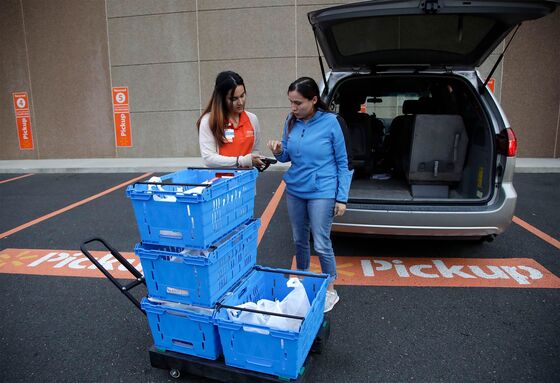 "When Amazon dropped billions to buy Whole Foods, it just validated how ripe this market opportunity is," says Greg Bettinelli, a partner at Upfront Ventures which led Deliv's round. "There is more capital to go after big ideas."
Even those who learned the hard way during the dot-com bust about the perils of placing big bets on the grocery industry have returned and are doubling down. Sequoia Capital partner Michael Moritz invested and served on the board of Webvan, which famously raised about $1 billion  million in funding, went public and then filed for bankruptcy in just a few years to be one of the biggest flops of the dot-com era. Moritz says he took a meeting with Instacart as a courtesy and had no intention of investing in online grocery again. But the meeting forced him to consider how much technology had changed since the Webvan days, when no one had smartphones and internet connections were slow and spotty. Instacart's business model differed radically by gathering groceries from existing stores rather than building its own centralized warehouses. Sequoia invested in Instacart in 2013, and Moritz sits on the board.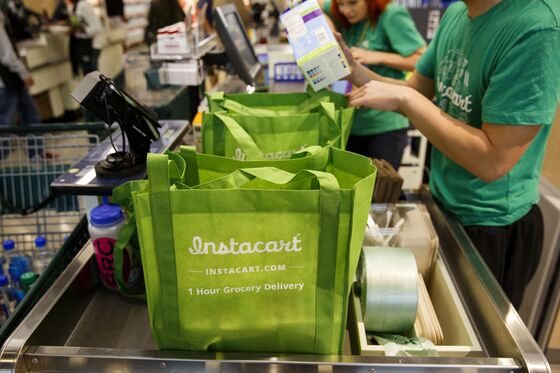 "The conversion of grocery to e-commerce is beginning to happen at a pretty rapid rate after years of a variety of different companies like Amazon, Walmart and smaller companies banging their heads against the wall," Moritz says. "People are starting to embrace online grocery because of all the ways technology has changed."

All of that money doesn't change the industry's strongest headwind: packing individual grocery orders and delivering them to people's homes is expensive. Most grocery items are already sold at narrow margins, leaving little room to invest in people to gather and deliver orders. And unlike toys, books and tablets, strawberries can get moldy, ice cream can melt and meat can spoil. Grocery profits are measured in pennies per item, making big shopping carts and frequent orders essential.
For online grocery delivery to be profitable long term, the industry has to train shoppers much the way Costco and other discount warehouse clubs did when they persuaded people to drive further, push big heavy carts and buy in bulk in exchange for lower costs. An on-demand delivery of a $3 gallon of milk will never be profitable unless shoppers pay a premium for the service. To offer low- or no-cost delivery, retailers have to use discounts to entice shoppers to place larger orders and agree to delivery windows days in advance, which will allow them to plan efficient delivery routes, says Julian Counihan, partner at Schematic Ventures in New York.
"When someone spends 45 minutes picking out my groceries and driving or taking mass transit to my house to drop off a $14 grocery order, how much money can they possibly make on that," he says. "There's going to have to be a quid pro quo with the customer." For instance, retailers can offer bigger discounts on grocery orders placed days in advance and then eliminate the discount for same-day orders.
On Thanksgiving, Amazon is once again turning to its proven formula of saving customers the hassle of a trip to the store, which could be incentive enough when stores are packed and time to prepare can be sparse. That makes it the perfect time to impress shoppers who have been reluctant to try online grocery delivery, says Guru Hariharan, a former Amazon executive and CEO of Boomerang Commerce, which sells artificial intelligence software to brands. It's a big risk for many shoppers to trust a company to save their holiday meal when they could just drive to a nearby store, many of which are open on the holiday for the same reason.
"Grocery retailers including Amazon, Walmart, and Kroger have a fantastic opportunity to educate and hook consumers by promoting their online grocery channel during Thanksgiving week and taking some of the stress out of a very busy time," he says.