Morgan Stanley Sees Graver Risks for UPS, FedEx From Amazon Air
(Bloomberg) -- FedEx Corp. and United Parcel Service, Inc. face underappreciated competitive risks from Amazon Air, according to Morgan Stanley, which cut its price targets on the two package shipment companies, sending them lower in early trading.
The UPS target was cut to $87 from $92, making it the lowest target on the Street, according to Bloomberg data. FedEx's target was lowered to $230 from $240. Morgan Stanley has an underweight rating on UPS and an equal-weight view on FedEx.
Shares of UPS fell as much as 4.5 percent in morning trading, while FedEx dropped as much as 3.9 percent. Amazon.com Inc. slipped as much as 1 percent.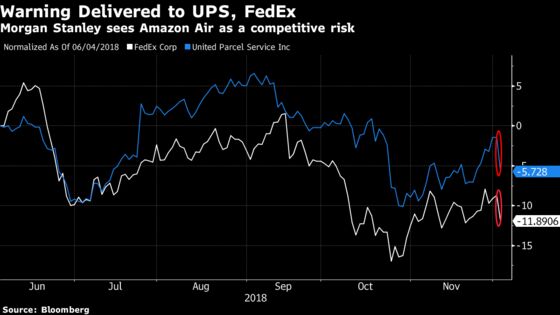 "Though Amazon Air's rollout is in the early innings, we estimate a 200-300 bps impact on UPS/FedEx Domestic Air volume growth already, with more erosion expected as Amazon Air is built out," analyst Ravi Shanker wrote to clients.
Morgan Stanley cut its estimates for volume growth, revenue growth and discounted cash flow for both UPS and FedEx. "The opportunity cost of AMZN Air's ramp represents 2% of potential revenue lost for UPS+FDX in 2018, growing to 10%+ by 2025," Shanker wrote.
Amazon has been building up its freight delivery service. Earlier this year, Atlas Air Worldwide Holdings Inc. agreed to operate a number of cargo planes for Amazon.
Shares of FedEx are down about 18 percent from a January peak. UPS has dropped about 17 percent from their own 2018 peak, also in January.